By Chioma Onuegbu,
Uyo – The presidential candidate of the People's Democratic Party, PDP Alhaji Atiku Abubakar is leading with wide margin in Akwa Ibom state.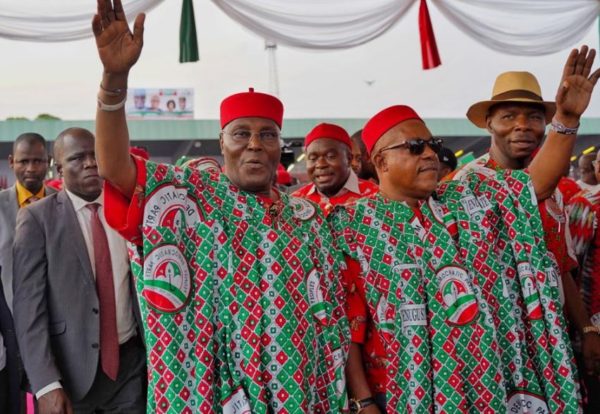 According to the results announced by collation officers from the various local government areas of the state at the INEC headquarters Udo Udoma Avenue, Sunday night in Mbo local government area Buhari of the APC won with 5,299 vote while Atiku Abubakar of PDP polled 4,750
In Ibeno LGA consisting of 10 wards Atiku Abubakar of PDP polled 3,673 while Buhari polled 1,011.
In Urueoffong/Oruko local government area PDP candidate Atiku scored 7,431 while Buhari scored 6,111.
Also in Nsit Atai local government area Atiku scored 11,692 while Buhari scored 6,539. Total votes cast is 19, 647.
In Obot Akara LG Atiku won with a total vote of 12,250 while Muhammadu Buhari of the APC scored 6,174.
Also in Mkpat Enin local government area, Atiku won with a total of 13,646 while Buhari of the APC polled 3, 191 and in Onna local government area where the incumbent governor hails from, Atiku Abubakar scored a total of 21,790 while Buhari scored only 1,850 votes out of 24,512 votes cast.
https://www.vanguardngr.com/2019/02/breaking-inec-ad-hoc-staff-abducted-in-katsina/
In Ikot Abasi local government area, APC scored 5,710 while PDP scored 8,353 out of 15, 204 votes cast.
Similarly Atiku Abubakar polled 8,890 votes to defeat Muhammadu Buhari who polled 1,406 votes out of 10, 495 total votes cast.
Also in Ikono local government area, where Atiku Abubakar of the PDP scored 8,100 votes while President Buhari scored, 3,166 votes out of 11, 714 total votes cast.
In Ini local government Presidential candidate of PDP Atiku Abubakar polled 13,344 votes to win Buhari who scored 5,646 votes
In Nsit Ubium LG Atiku of PDP won with 11,575 votes, while Buhari of APC scored 5,840. Total votes cast 18, 103.
Atiku also won in Esit Eket with 11,146 while Buhari scored 4,105 votes.
PDP won in Etinan with 18,452 votes while APC polled 5,452 votes.
Urueoffong Oruko PDP won with 7, 431 vote while APC scored 6,111 votes. Also in Ika LGA Atiku polled 10, 494 votes While Buhari polled 3,352 votes.
Atiku polled 12, 201 votes in Nsit Ibom local government area while Buhari polled 5,776 votes.
In Oruk Anam LGA Buhari scored 9,776 votes while 25, 587 votes. The collation of results is still ongoing
https://www.vanguardngr.com/2019/02/pdps-call-on-inec-to-declare-atiku-winner-reckless-provocative-apc/