Evidently, Lagos is far blessed with its array of competent leaders than vast economic potentials and opportunities. If economic prospects make a place great, what do we say of countries located on the mouth of Atlantic Ocean but without economic prosperities as Lagos, which is just one State in Nigeria.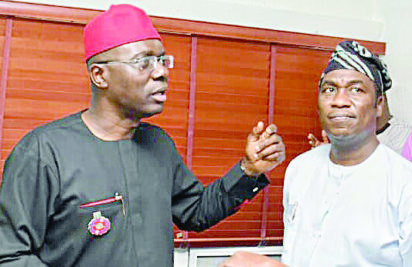 This is the reason it matters who becomes the Governor of Lagos State; and this fact known to Lagosians, the 2019 governorship race is worth the attention and discourse. After all, Lagos State election does not only determine the State of Lagos but Nigeria as a whole.
The symbolic status of Lagos State, Nigeria's model is beyond any form of sentiments. Lagosians are well informed and not weak. They want leader that can whither the complexity of governing mega society and deliver good governance without excuses; they want leader that can assure of greater future and lead through it. Lagsosians want candidate with clear manifestos for sustainable governance, not sheer rhetoric against personalities or people.
Dispassionate and strong candidate
Lagosians want a candidate that is dispassionate and strong. The 2019 election market has presented options before the people, a freedom-laced choice. A Babajide Sanwo-Olu telling the public how he intends to drive the state from the stand point of his 5-pillar mantra on one side, and someone with 'one man Lagos' hymn as campaign manifesto. The choice is before intelligent and ingenious electorates, and I trust Lagosians when it comes to smart choice at the poll.
APC led government in Lagos State has never disappointed Lagosians; rather, there is more to be grateful to the party for. When the terrific politicians under the PDP government seized Nigerian nation in 1999 and began to upturn our good democratic destiny, sharing out our commonwealth to few, squandering our God-given enormous resources and placing underserving opportunists before innocent Nigerians, snatching and dragging all States by force into penury, Lagos State stood, with credit to good leadership under the then AD/ACN.
APC's Sanwo-Olu and Hamzat combination is an indication that the party is always putting Lagosians first. It is worth saying that Mr Babajide Sanwo-Olu's profile and track records in government is a propeller to fast track governance of a very demanding Lagos of today.
Indisputably, Sanwo-Olu of APC has not only displayed an impressive profile in private and public service, he has demonstrated ability to work the talk in every media space lately. A former Commissioner for Economic Planning and Budget, Commissioner for Commerce and Industry, Commissioner for Establishment, Training and Pensions and Managing Director of the Lagos State Property Development Corporation spanning through three successive administrations of Governors Bola Ahmed Tinubu, Raji Fashola and Akinwunmi Ambode successively, Sanwo-Olu is APC's best gift to Lagosians in the recent time.
Practically speaking, Sanwo-Olu kick-started the process that resulted in collective bargaining review of salaries, and timely payment of wages and allowances in collaboration with the Head of Lagos State Civil Service,
While serving in government, he set-up the Lagos State Security Trust Fund; initiated new projects in conjunction with government agencies in Environment. His efforts in the Transportation sector gave birth to what is known today as LAGBUS while same on Commerce resulted to the popular Lekki Free Trade Zone, among others
The running mate of Babajide Sanwo-Olu is another great achiever in the State with vast records of accomplishments. Hamzat implemented Electronic Document Management Systems (EDMS) across various agencies in the state civil service including Lands Bureau, Pension Directorate and automation of the Certificate of Occupancy Process.
He supervised the going live, maintenance, operation and upgrade of the Enterprise Resource Planning Software (Oracle Business Suite).
With the implementation of e-Health in thirteen General Hospitals across the State, Hamzat could be superficially said to have boosted the State's health system with technological innovation. He was Commissioner for Science and Technology for two successive administrations in Lagos State.
As Commissioner for Works and Infrastructure under Fashola's administration, his impacts in the BRF government boosted infrastructural achievements that Fashola's administration was renowned for till today. These are just few of many lofty records of Dr Obafemi Hamzat. What better team can Lagosians have at the seat of government in 2019?
If there is any competent challenger, such person should come up with better profile and achievements in leadership and governance, and dwell less on emotional unruliness that works not on the psychic of good people of Lagos State.
The good governance enjoyed by Lagosians is a product of continuity, harmony, dedication and commitments founded on the sweats of true leaders who never allowed Lagos to be marred by PDP's reckless 16 years. Giving Lagos State to a politically inexperienced contender equals to offering a viable platform for looters and selfish politicians to re-group and begin to wax stronger at the detriment of the nation; giving Lagos to PDP amounts to making their candidate a patron that will revamp a dying party, bringing corrupt politicians together to thrive on Lagos State's tax payers' money.
Models of best economies
While we continue to look at models of best economies around the world to advance growth for Lagos State, reverse gear can never be an option. We have been a consistent State and a people. The PDP candidate has unending fear around freedom issue in a very free society; he will never be a good Governor that can allay fears of 22 million people of today's Lagos and give hope for their cherished futures.
It is pertinent and saves for Lagosians to vote for Sanwo-Olu and of course the APC candidates to ensure stability of the polity, consistence, continuity and consolidation of the good governance being delivered by the party across board. This is the only way Nigeria can enjoy steady growth and development without interrupting a steadily growing economy and the entire system.
Subscribe for latest Videos