Kogi State Chapter of the worldwide Ahmadiyya Muslim Community has called on all Nigerians, the political parties and their candidates, the officials of the Independent National Electoral Commission, INEC and security operatives to shun all kinds of electoral malpractice, hate speech and fake news in order to achieve free, fair, credible and peaceful elections.
The Kogi Circuit Missioner of the worldwide Community, Al-Hafiz Yunus Omotayo, made the call on the Ahmadiyya radio programme, Voice of Islam, broadcast on the Kogi State Confluence Radio 94.1 FM, Lokoja, the Kogi State capital.
While highlighting the current myriads of issues on  the general elections, the eminent Islamic scholar identified the surge of hate speech, fake news, vote trading and election rigging as what could mar the nation's efforts towards  free, fair, credible and peaceful elections. He lamented fears of election violence that can further endanger the peace and security of the nation and individuals.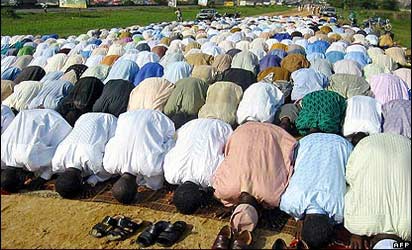 Speaking further, Omotayo said that being a religion whose adherents make up larger percentage of Nigerians, these electoral exigencies necessitate the need to enlighten the public about the teachings of Islam on such issues, so as to be better guided in their mindsets, worldviews and conducts in all aspects of political and electoral affairs.
Drawing from Quran chapter 3, verse 27, on Islamic concept of leadership, he stressed: "We have to understand and appreciate the fact that Allah is the Ultimate and Supreme Sovereign Who has all kingdoms and governments in His Hands. He is the Ultimate Elector Who gives the power to whosoever He pleases among people; and takes it away from whomsoever He pleases."
https://www.vanguardngr.com/2018/12/islamic-scholar-tasks-wealthy-muslims-on-building-more-schools/
He recalled a statement of the Prophet Muhammad where he declared that "your actions are what determine the type of leadership you have.
"This means that if substantial number of good people make up a country, the result would be an enthronement of good leadership. But, if it's otherwise, then what you would have will be bad leadership. So for our elections to produce good leadership, we have the collective responsibility to be good citizens," he added.
He stressed further that the Holy Quran declares that franchise or the right to vote as well as political offices are trust that must be consciously, conscientiously and righteously discharged. He supported his assertion with Quran 4:59 which states that, Verily Allah commands you to make over the trusts to those entitled to them, and that, when you judge between men, you judge with justice. And surely excellent is that with which Allah admonishes you!" Commenting on this, he said, "This verse clearly makes it clear that your vote is not just your right, but also a trust entrusted to you and you will be accountable to God for why you cast your vote for the particular candidates you voted for.  He added: "This Quranic declaration very strongly condemns all forms of electoral malpractice like vote-buying and rigging of elections in favour of any undeserving candidates."
On fake news, according to him, the teachings of the Holy Quran are very apt and compelling, as it declares in verse 7th of its chapter 49 that, "O ye who believe! If an unrighteous person brings you any news, ascertain the correctness of the report fully, lest you harm a people in ignorance, and then become repentant for what you have done." Further quoting from Quran 17:36, he said: "All these injunctions clearly require that we must not create, believe and spread rumours and fake news."
On hate speech, he stated Islam's categorical condemnation of all forms of this menace, drawing authorities from Quran 2:84 which enjoins that, "And speak to men kindly", and Quran 49:14: "O ye who believe! Let not one people deride another people who may be better than they, nor let women deride other women who may be better than they. And defame not your own people, nor call one another by nicknames. Bad indeed is evil reputation after the profession of belief; and those who repent not are the wrongdoers."