By Ebunoluwa Sessou
One message that was echoed in this year's Women in Management Business and Public Service,WIMBIZ, Women in Politics, WIMPOL,Town Hall meeting was the call for more participation of women in active politics in Nigeria.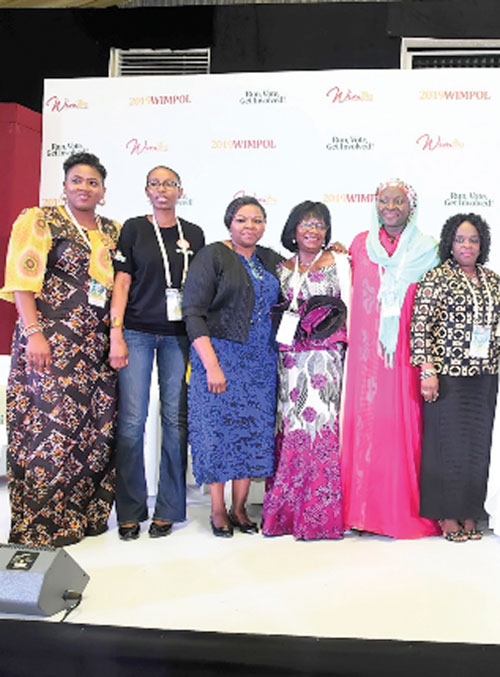 With the theme: Run, Vote, Get Involved, the town hall meeting which took place in Habour Point in Victoria Island, Lagos was an avenue for over 200 women from diverse backgrounds and with different ideologies, to interact with a cross section of women vying for different political offices.
The position ranged from vice president, governorship, deputy governorship, Senate, House of Representatives as well as House of Assembly.
The meeting which was held within two hours, thirty minutes started around 4.00pm and ended at 6.30pm.
Atiku admits not speaking with Col . Sakaba's wife
In her keynote address, Mrs. Olubunmi Aboderin-Talabi, the Chairperson of WIMBIZ Executive Council disclosed that the organisation being a catalyst that elevates the status and influence of women and their contribution to nation- building is focused on driving female involvement in politics and public service as a means of ensuring positive growth and national development.
According to her: "Having identified the low representation of women in politics, the objective of the town hall meeting was to create awareness about politics and how women can get involved.
"The Town hall meeting comprised five panellists who are female political candidates in the forthcoming general elections and was moderated by Yemi Adamolekun, Executive Director, Enough is Enough Movement," she said.
The Panellists
The panellists at the event who took turns to showcase their manifestos lamented the deliberate efforts to shortchange women from active politics as well as untold story and violence experienced by women while involving themselves in politics.
The panellists were, Khadijah Abdullahi-Iya – Vice Presidential candidate, Alliance for New Nigeria, ANN, Oluwayemisi Busari, Deputy Gubernatorial candidate, People's Democratic Party, PDP, Tolulope Sadipe, All Progressives Congress, APC, House of Representatives candicate, Lara Adesanya, Gubernatorial candidate, Providence People's Congress, PPC, Arinola Oloko, aspirant,Lagos House of Assembly under the Social Democratic Party, SDP.
Moghalu's YPP, Fela Durotoye's ANN form alliance, 'The Force'
Each panellist had an allocated time to speak about why she is running, where she finds gaps and what she would achieve if elected.
Khadijah Abdullahi-Iya while speaking during the meeting stated that Nigeria was her biggest passion and that all she has been doing prior to getting the mandate to run has been to build and develop Nigeria.
She further encouraged Nigerian women not to shy away from responsibility. "As women, we have enormous capacity to serve so when called upon to do so, we should take it.
On her part, Mrs. Lara Adesanya, the Gubernatorial candidate, Providence People's Congress, PPC in her speech, urged women not to sit back rather, they should be well involved in politics."Don't sit down and complain, get involved," she charged.
Sharing her political journey, Adesanya highlighted areas her party would focus on including health care, quality education, security, the rule of law and transportation, adding that she joined in the race to ensure that Lagos State gets what it deserves.
The deputy gubernatorial aspirant for People's Democratic Party, PDP, Mrs. Oluwayemisi Busari in her speech appealed that women should hold themselves up to a high-level standard of delivery.
According to her: "As women, we have the moral justification to encourage ourselves. However, we must always be on top of our game in order to call up that moral justification".
Highlighting the goals of the party at the state level especially in Lagos State, she said the party if elected, would focus on liveability, the economy and the future.
When elaborating on these focus areas of her manifesto, she stated that both past and present adminstrations have been celebrated for doing the expected. She, however, noted that her government will rather do the unexpected capable of moving the state forward.
An aspirant of the Social Democratic Party, SDP, Mrs. Arinola Oloko in her 10 minutes manifesto revealed that until the mindset of Nigerians is totally changed, it may be impossible to eradicate godfatherism in Nigeria adding that women should see politics as an attractive profession to effect changes positively in political atmosphere.
Imo PDP primary: Court slams N.3m on Anyanwu
According to her, "changing mindsets is where we need to start in this race", she noted. Ending her speech with a quote by Margaret Thatcher: "If you want something said, ask a man, if you want something done, ask a woman," adding that women are catalysts in their various spheres of life.
For Mrs. Tolulope Sadipes, the ten minutes speech was centered on the anger she developed as a result of the deplorable state of things in the country and Oyo state in particular.
According to her, "Instead of venting my anger on social media, so I decided to run for office. Women need to take responsibility and run for office. "I tell members of my political party to run for positions so as not to leave the fate of the country in the hands of those who would destroy it", she said.
Highlight of the event was issuance of certificates of participation to panelists.