What was the Presidential candidate of the Nigerian Democratic Congress Party Dr. Johnson Edosomwan doing in Isolo, in the outskirts of Lagos without security and adequate protection? And what was his mission there on a sunny Wednesday afternoon last week.
Those were the questions that was on the lips of most of the residents at the hitherto quiet neighbourhood that woke up to the noise of hundreds of Okada and tricycle men, as they hurriedly sped into the neighbourhood and gathered in a large compound, waiting for the arrival of their august visitor.
WAEC CERTIFICATE: AGA presidential candidate asks court to disqualify Buhari
But more questions persisted. Who was the organizer of this particular proceeding? The organizers were around, but the residents couldn't identify them. The residents moved closer, nosing to know more, making enquiries upon enquiries from the gathering teeming number of motorcyclists. But still no one seemed to know who had gathered the huge crowd there.
And the Okada and tricycle members, who ought to know, were not ready to divulge any information as they organized themselves into the available hall and patiently waited.
At past noon, a convoy of posh vehicles not regularly seen in the neighbourhood arrived and the Presidential candidate of Nigerian Democratic Congress Party Dr. Johnson Edosomwan arrived in the company of his Vice President and other party stalwarts.
Just then, the faces of the organizers were revealed. Assisted by the Lagos chapter of The National Commercial Tricycle and Motorcycle Owners and Riders Association of Nigeria (NACTOMORAS) with the influence of the Vice Presidential candidate of the party who happen to be the president of the national association, had hurriedly put together the meeting to enable the party's presidential candidate to address the members of the association and also the people in the neighbourhood who had filed out of sheer curiosity.
But just then, with the milling crowd and the spread of information that such a bigwig was in the neighbourhood, strange faces began to appear. Of course and that was the moment that the issue of security really arose! Was the police informed of the gathering?
What if there was an attack from other parties or a problem arose anyhow during the meeting as there was no single security or uniform personnel around or that escorted the NDCP Presidential convoy to the meeting.
2019 Election Campaigns: Issues are missing!
Unperturbed by the risk being expressed by the residents, Dr Johnson Edosomwan walked briskly into the humid, poorly ventilated hall with his entourage. For one who had worked on the board of multinational companies in America, where he had also lived for decades, Edosomwan felt even more at home than the people he was visiting. While they struggled for every semblance of available hand fans, Edosomwan in his well tailored plain white kaftan, sat on a make shift table reserved for the dignitaries, from where he later addressed the crowd.
However the Secretary of the branch of the association Mr. Anaja Michael preferred that the meeting would be more beneficial if it was interactive. But the session could only last for not too long as Edosomwan and his entourage were on their way to Abuja and security indications also suggested that the area was not too safe as no security officials were in sight in case things got out of hand.
This reporter however, cornered Dr Johnson Edosomwan to ask why he risk being in such a neighbourhood without police escorts.
His reply was, "I came here to experience what life is like for the people, to see their suffering and before I got here, I saw the condition of the road, I saw the condition of the average person and I could see the suffering that is in the land. I have now confirmed this from the east, south north and west.
What touched you most when you got to the meeting with the Okada Riders Association?
That is the resiliency, the persistency and the courage to hang on. These people despite their condition, they were very persistent and willing to do whatever it takes. And that is what they put into their jobs every day.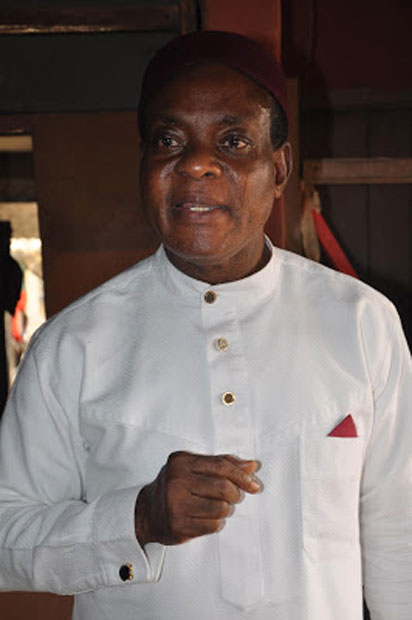 For someone coming from developed country there was no electricity light in that hall where you addressed those people, how did you feel?
Quite honestly, I overlooked the fact that there was no light; there was no air, or air conditioning system there. I focused on the problem but to think of a possible solution. At the Abuja airport too, there was no light for 45 minutes for us to be able to take our luggage. I think the process one goes through makes one a better leader when you are in touch with the issues.
Gbagi, Ogboru at each other's throats over Delta gov'ship
The campaigns have started, what is your experience so far?
My experience is that people are very receptive to our message, they are receptive to the message and the implementation strategies that we are putting across. They are sick and tired of vote buying and selling.
What is your impression of other political parties in the race?
I don't have time to talk about them or what they are doing. There are enough blame to go around, I am not going to be talking about the current administration or the one that has been there in the last years or the one that has been there in the 18 century. What I am concerned about is moving Nigeria firward.
So is there any hope down the tunnel that you are going to win at the election?
Don't forget that we are not just going to be mandated by the power of men but by the power of God. Our faith is in God and our faith is also in the Nigerian people. So whatever that faith is at the end of the day, we would be able to be glad on what God has done.
Placed side by side with money bags, and their spending capacity, how do you think people would by into your dream and manifesto without spending as much as they are going to spend?
We started about two years ago to register a political party and some people said we will not achieve that because we do not have the money to throw around. Even though the process became very expensive, but here we are we have registered the political party.
Here we are the political party has nominated a presidential candidate and here we are campaigning from street to street and valley to valley. So what we cannot see, God can see and with the power of the people, they will wake up and see that progress has power over suffering and every other thing that are not aligned for them.
Before you chose your vice president, did you know that he was the president of the Okada riders association?
Oh yes I knew. We actually searched and interviewed 25 candidates, a past president of the senate and all other kinds o people that we interviewed. We interviewed even business men too. We were looking for the person that could represent at least 80 & of the poor people": Someone that could represent that population and is not a push over.
This gentleman has a Masters degree and has been doing work in neighborhoods, implementing NGOs, and suffering with the poor. We selected him as a shining example to the world that we want to create. Nigerians cannot be ruled only by millionaires and billionaires that are investing their money in Dubai, South Africa, Europe and America.
Ogun poll: ADC flays attack on gov candidate's convoy
Nigerian leadership should be dominated by upper class, middleclass and lower class. Right now we do not have middle class or lower class, we have only upper class that is 1% dominating every other person. And we need to change that.
Your party is a member of a coalition that has endorsed Atiku for presidency what is your take on that?
We have had a press conference to make our position clear on that: As we are going from state to state on our campaign. We are going to make it clear to the electorates that we are not in support of such endorsement and also, we are writing a letter that will be delivered to all the people that were involved in all that shenagan to let them know that it was not supported by the NDCP and its presidential candidate. And that the memorandum of understanding, was not followed, it was a violation of the code of ethics, we do not support it.
Does that mean that you are ready to face the election on your own?
Sure, we are going to go to the finishing line. We are talking this election to every valley and every road and we are going to be talking to everyone along the way.
At Isolo just now, we didn't see exchange of money after you finished addressing the people do you think that Nigerians will vote for you in this election without yopu sharing money or items like Fayose did in Ekiti state with bags of rice?
I was told that some people from other party were going around giving people money to buy their vote but tell people that if they sell their pvc for money today, they will mortgage their future for the next years and the future of their children.
Of figures and their application
I am the first presidential candidate to proclaim no vote buying and no vote selling, no violence. Every presidential candidate needs to adopt these policies too. If all of the presidential candidate can step up to these policies then the country will be better of.
However, I leave that to the conscience of the Nigerian people because overtime, they will recognize that they have been wrong and the people that did not sell their votes were right. If all these years they have been having it the way they have been having it and no change, then NDCP is the alternative.