By PrincewillEkwujuru
Spoken  word  and   performing poetry impresario, Dike Chukwumerije took centre stage at the Made in Nigeria Poetry Show in Lagos.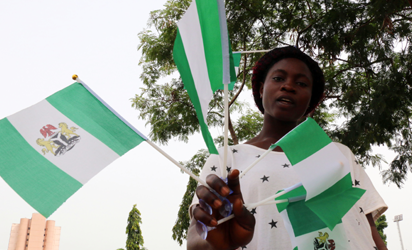 Exploring themes of love, national identity and peace while tracing the historical arc of Nigerian history, during his performance, Chukwumerije, often referred to as the Grandmaster, held the audience spellbound for two hours when he strung together twenty poetry pieces  wrapped in music, dance, costume, lighting and topnotch stage management.
2019 Elections: Buhari is key to Nigeria's prosperity, Chimezie tells his constituents
In one of the most powerful lines of the show, Chukwumerije issues out a national call to action, emphasizing that "our redemption does not lie in fine roads in Abuja. It lies in building our rundown schools, filling up our libraries and exciting our minds."
Speaking after the event, the Executive Secretary of the MTN Foundation, NonnyUgboma said, "It is very fascinating seeing these young people acting out the poetry that Dike has written. I believe that there are young people with talents in Nigeria and there is a need to support them. Being a truly Nigerian company, we believe that it is important to support the career of young people in this industry."
I flaunt my sex appeal to appreciate God – Nkechi Blessing Sunday
The MTN Foundation sponsored the event as part of its Arts and Culture line of events, where the company sponsors a slate of shows highlighting authentically Nigerian stories. In the last quarter of the year alone, the Foundation has already sponsored such critically acclaimed shows as Fela and the Kalakuta Queens, Legends the Musical, Life in My City Art Festival in Enugu, Our Son The Minister and Oba Esugbayi.
Subscribe for latest Videos