By Japhet Alakam
LAOLU Senbanjo is a man of many parts – a self-taught visual artist, musician, actor, and former human rights attorney. Born and raised in Ilorin, Laolu left Nigeria for the U.S in 2013, to pursue his art career. For a long time, he was a struggling artist, rejected by several art galleries. However, he was consistent!
In less than five years since he moved, he has had his work heavily influenced by Yoruba culture – featured on Nike outfit and on dancers in Beyoncé's visual album, 'Lemonade' and finally on Belvedere. Laolu spoke to Vanguard Arts. Excerpts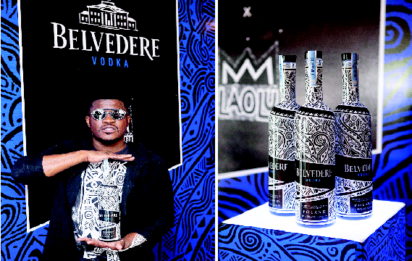 Despite your exploits in New York, even imbibing the city into your art name, Laolu NYC, you are still very much rooted in your heritage, Why?
As an artist I get to share my soul with people around me, my environment and the world and I'm able to channel my experiences like my journey as a human rights attorney and as a Nigerian. When you are Nigerian, you really are an ambassador for the country without even realising it. My art has allowed me not only to express myself but also educate people and I never thought that I would be in that kind of space to do that. Art has been that tool that has brought me in front of a lot of people and allowed me to explain what it means to be Nigerian. I explain to them what the imagery I use signifies and I take them to Nigeria without them having to move an inch which is a unique thing.
Why it is easy to steal billions voted to fight Boko Haram – Ret. General Abbe
Foray into arts?
Laolu began his journey, not with a canvas, but with a law book as he majored as a human rights lawyer in Nigeria's capital. "I went to law school in Bwari in Abuja and then started working as a lawyer. First, I worked at Diamond Bank in customer service but I couldn't do it. The hours were so long and exhausting and everybody was so happy I was working in a bank except me. When I quit my job working at the human rights commissions, it was borne out of the fact that I couldn't combine being an artist and doing a 9-5, it was very challenging. I decided that the kind of art I wanted to do needed more of my time, more practice and more focus. I knew if I pursued a career in the arts, I'd have to live with the fact that some people in my hometown might never talk to me again. So in 2010 I quit my job as a lawyer and started the Laolu Senbanjo Art Gallery in Abuja, Nigeria."
Reactions from friends and family?
When I quit, everybody felt I was going through a hard time, they would call me like 'what are you doing now you're not working?'. They treated me like a leper because they felt like I had a problem because I left a paying job for something they thought didn't pay. That energy wasn't what I wanted around me. The family even held meetings about it and I decided that I couldn't stay with this type of energy around me.'
Your turning point?
I would say it was when I worked with Nike. I was named 'Master of Air', and I was called to design limited edition t-shirts, sneakers, and posters. That was mind-blowing. Although I had worked with Beyonce, I was under a non-disclosure agreement to not talk about it for close to 8 months, and then Nike happened. Nike, I could talk about but I didn't know the magnitude of it until the day of the show, it was insane. I never knew I could sign autographs and get tired.
I had people lining up for me including NBA basketball players.
Finally, you've collaborated with a number of brands, including Nike and Bvlgari. Can you please tell us more about this collaboration with Belvedere?
Belvedere approached me to design a limited edition bottle that would demonstrate their values regarding revealing inner beauty. This resonated so much with me as the sacred art of the Ori is about letting the inner you shine through. In addition, Belvedere partnered with the RED campaign on this project whose work includes providing medical support to women living with HIV. I wouldn't pass an opportunity to contribute in this way so I jumped in! One of the things you will notice about the bottle is the patterns that are symbolic of the extra care put in to making the vodka.
The Belvedere bottle design came from that inspiration as well as doing a lot of research about what Belvedere. The bottle is an amazing blend of my art and bringing to life what Belvedere stands for – and I get to be a part of giving back to society, which means a lot to me.
I am so excited to be back home, it has been an interesting journey working on the new limited edition bottle and seeing it come to life is a dream come true. I am always glad to showcase the Nigerian Culture on anything, using art to represent people, culture including the remarkable beauty embedded inside Belvedere Vodka. This bottle brings to life a lot of things the vodka brand stands for such as the rye, the pristine water and the basic things that makes Belvedere what it is and being able to put that on a bottle is so overwhelming.