Gbagi is an empty barrel- Ogboru
Ogboru should contradict what I said, not insult me- Gbagi
By Emma Amaize, South-South Editor
ASABA- FORMER Minister of State for Education, Olorogun Kenneth Gbagi and All Progressives Congress, APC, Governorship Candidate in Delta State, Chief Great Ogboru, were at daggers drawn, yesterday, over the claim by the Peoples Democratic Party, PDP, leader that Ogboru swore to him that he would not contest governorship position, about 18 years ago.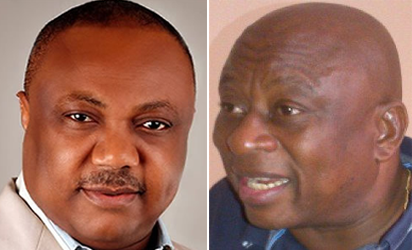 Ogboru told one of our reporters, "He (Gbagi) is an empty barrel, empty barrels make the loudest noise, and that is all I can say I want to forget about him because he is nothing."
Reacting to his description by Ogboru as an empty barrel, the former Minister thundered,"A son in all ramifications calling his father, his boss, his teacher an empty barrel is regrettable and unfortunate. For him to refer to me, a lawyer, criminologist from the University of Lagos and an industrialist with industrial build up, which his sponsor, former governor of Delta state, Dr. Emmanuel Uduaghan recognizes is unfortunate."
Olorogun Gbagi captivates Oginibu kinsmen with generosity
"If he (Ogboru) went to school, he would have known what empty barrel means. When I was giving him money, took him to a Chinese Restaurant in London where he swore that he would never contest election; when he went to a former governor of the state , Chief James Ibori, and they were videoing him snoring in the waiting room, he did not know that I am an empty barrel in his words.
"I am not going to join issues with him, Deltans must stand up and note that we cannot be deceived, if he had employment, let him come out and show Nigerians what his employment is, if he has any business that he is doing other than going to beg government for appointment, money and contract, let him show it.
"The question is that the things I have said that he said let him contradict it so that I can put up a sworn affidavit to the public, he cannot just say I am an empty barrel when he cannot contradict what I said, that is the style of an illiterate.
"Let him say this thing that Gbagi said is not correct, that one is not correct, am I an empty barrel when he entered a Pick Up van to come to my house, how can he utter such.
"Even from the statement he made, he has accepted it. If I said that I bought a Mercedez Benz for you, that I came and received you in the plane, that I had a meeting with you at the Chinese section of Imperial Hotel, where there were nine to eleven of us in that meeting and he is not debunking the facts, why is he insulting me?
"Is that the kind of man who wants to be a governor? How can you insult the most formidable minister of Urhobo extraction, I was the former Chairman of the Legal Aid Council of Nigeria and the most visible industrialist in this state, not to talk of Lagos and Abuja, how can he now say that I am an empty barrel. Apart from the loan he got from the bank to sell fish, the bank has refused to give him loan now, has he been able to do anything, "Gbagi retorted.
He said, "We are transparent, the issue is that we as Urhobos, we as Deltans from this divide of the country have an understanding and people who have respect for agreement should leave the governor of Delta state, Senator Ifeanyi Okowa to complete his two tenures for Delta North senatorial district.
"And thereafter, we will find out in 2023 the next Urhobo man to take over from him, that is my position," he added.
How to explain the return of Nigeria's Boko Haram militants?
On Ogboru's refusal to debate with Okowa on grounds that Okowa's election was an illegality, he said, "Ogboru would never be able to debate, whatever Ogboru says or writes is written by people, he does not have the mileage of debate with an educated person like Okowa, so what is he going to talk to Okowa about. "
"He has no depth, he does not understand, we are not talking about selling fish here, we are talking about running an institution. Therefore, I will be surprised if he agrees to take on Okowa in a debate because that will be the end of him.
"Okowa has followed the process of local government chairmanship to commissioner, Secretary to State Government, SSG, and Senate, what does Ogboru know, I want to be polite, I cannot use the word empty barrel as he has done. He knows he has nothing to tell us, nobody is going to follow him; nobody is going to believe him.
"He lied to me, he lied to people, and people were in that meeting when he swore to me. How can he say Gbagi is an empty barrel, what does that mean, he almost said Chief Edwin Clark is an empty barrel, he has no qualification, he cannot face Okowa for a discussion, let him come out and tell Deltans what he has to offer them," Gbagi asserted.
Reminded that Ogboru has a Master's degree from one of the foreign universities, Gbagi said he should prove it, as he was aware that Ogboru did not go to school in the country, adding, "Let him tell us where he got it from, which institution."
"I am telling you specifically, he has nothing academically to show, tell him to come and write a five-minute essay about Delta state and see whether he can write it and then let me, Gbagi, write an essay on Delta state in five minutes and let the world read. That is how to test people; a brilliant man is a brilliant man.
"He was selling fish with borrowed money before, he has come back, all these years he came back, what has he been able to do. Let us know what he has achieved, I am industrializing the state, I am industrializing the country, I have never taken loan from any bank, I have never taken bribe from any government, let him come and show what he has in the society. Somebody like Ogboru cannot say that I am an empty barrel.
"You see, we are not talking about coup plot right now, we are talking about democracy, which is the superiority of brain power.