By Bose Adelaja
FourSquare Gospel Church in Nigeria, has charged Nigerians to demand for accountability from their political leaders in order to redeem the nation from looming dang-er.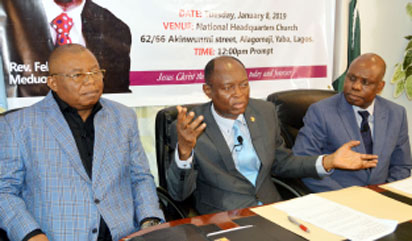 Addressing journalists at the church headquarters in Yaba, Lagos, the Gener-al Overseer, Rev. Felix Meduoye enjoined Niger-ians to eschew violence and avoid being used by over ambitious politicians regardless of the level of provocation or financial inducement.
The media parley was in commemoration of the church's 64th Annual National Convention with a theme, "From Glory to Glory'' holding at Four-square Camp, Kilometre 75, Lagos/Ibadan Express-way, Ajebo, Ogun State from November 11-17.
He urged Nigerians to focus and demand from politicians on their pro-gramme on security, econ-omy, infrastructure, edu-cation, youth empower-ment and crusade against corruption as well as how all these could be effect-ively tackled and fixed to ensure collective growth and development.
2019: Over 428,000 PVCs uncollected in Osun-INEC
In his words, ''Nigerians must be deliberate in de-manding accountability from our leaders and that Nigeria as a nation needs intervention and complete turnaround."
Meduoye also admonish-ed the electorate to shun any form of rigging in this year's general elections by avoiding the temptation to alter the will of God for the elections.
He urged every Nigerian with PVC to vote his/her conscience without finan-cial inducement so as to engender peace during and after the elections.
The General Overseer said the nation's predicament started a long time ago, noting that some school of thought believe that "our problem dated back to our amalgamation era."
The cleric advised Presid-ent Muhammadu Buhari to allow the upcoming elect-ions to be free and fair; failure of which will amount to chaos across the nation.
He said, ''Mr President should ensure a free and fair election because if it is not so, it will lead to chaos which may cost Nigeria more than expect-ed. He is at the helm of affairs and should not give us reasons why the elections will not be free and fair."
2019: Lawmaker expresses confidence on INEC
In conclusion, he admon-ished the Nigerian elector-ate and the contestants to imbibe the fear of God as they head for the polls, adding "in Proverbs 14:34, a righteous nation allows the fear of God and that righteousness exalted a nation but sin is a re-proach to people.''
Praying for justice and peace, Meduoye said; "we must all give God the chance to rule in our affairs and we must all continue to pray for the betterment of our people, families, communities and the nation."