By Elizabeth Uwandu
STUDENTS and pupils of Queensland Academy, Okota , have called on Nigerians to embrace peace and imbibe the spirit of friendship as Christmas approaches.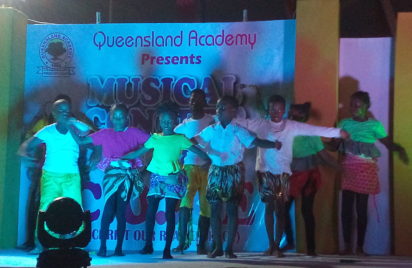 They made this known recently during a Christmas concert themed: C.O.R.R, Christ Our Real Essence, that saw them perform songs, music and drama in Nigerian local languages, French and German languages.
READ ALSO: Enugu workers receive 13th month salary
While the pre-school and primary pupils thrilled the audience that included Mrs Lilian Adenike Okudoh, the school's Educational Development Director, EDD, with soul-lifting performances of Silent Night playlet and dance performance; Petit Papa Noel, Oh Holy Spirit; Lingua Pro Concept by Kelvin-Nwaigwe, Amanda and Brain Ewoh; the secondary classes and Queensland Academy School choir renditions of dance presentation of a King is born; Oh come all ye faithful; My soul doth magnify the Lord   and Make we thank our God, sent a very important message to Nigerians to be appreciative of God's benevolence and better appreciate the season of love.
However, the grand display of Iyiola-Aflilake, Oluwatobiloba Yoruba chant of the greatness of God reminded Nigerians that it is only through the help of God that the country can attain its full potentials.
Other performances by the pupils and staff of the school   were Candle Night: Silent Night ; Great is He and Christmas Medley.
Speaking on the reason for the Christmas concert tagged: C.O.R.E., Mr Oyetade Timothy, the school's administrator   explained that the concert   was to preach peace , unity and love to Nigerians.
"We realised that our students have been groomed to be ambassadors of peace, we brought them together and within a week, they practised all what you saw that put smiles on the faces of their parents and guardians."