•Releases roll out guidelines
•We'll be ready by 2020 —NCC
By Prince Osuagwu (Hi-Tech Editor) & Emmanuel Elebeke
NIGERIA's assumed position of the giant of Africa puts the country in desperate need to always be ahead in both economic and technological advancements.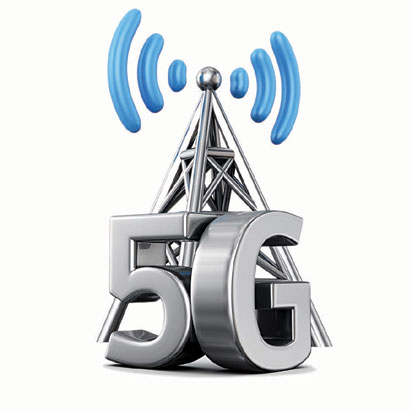 Although the country is doing well in technology ecosystem, it  also appears to be losing grip of its envious position as emerging market's fastest growing technology economy.
This is not unconnected to poor last mile broadband penetration and regrettable gaps in infrastructure in the country.
Statistics released recently by the GSM Association, GSMA, revealed that currently, only 44 per cent of mobile subscribers in Nigeria are using 3G technology and four per cent are using 4G technology, compared to over 18 per cent 4G penetration in South Africa and 16 per cent in Angola.
However,  GSMA also believes that Nigeria could still kick itself back into calling the shots of African technology developments if it makes haste to adopt the emerging fifth generation, 5G network services currently making waves among world economies.
The association reckons that technology is dynamic and only values those who stay abreast and adopt latest innovations
Digital future
Launching a report it titled Spotlight on Nigeria: Delivering a Digital Future" the trade body which represents the interests of mobile network operators worldwide, actually admitted that mobile connectivity in Nigeria has improved the welfare of Nigerians but warned that sustaining that would mean constantly adopting latest innovations like the 5G network.
$8.1 bn repatriation: Court fixes Dec. 12 for report of settlement in MTN vs CBN case
Head of Sub-Saharan Africa, GSMA, Akinwale Goodluck said: "Mobile connectivity has already improved the welfare of millions of Nigerians; opening the door to new digital possibilities and powering the country's economic development.
"For Nigeria to take full advantage of the next phase of its digital transformation, it's vital that collaboration between industry and government enables the right policy environment for millions more to benefit from ultra-fast mobile broadband. If policies don't keep pace with the needs of society and technological innovation, there is a risk that citizens will be left behind and productivity and competitiveness will suffer." Goodluck said  modernising regulation and policy reform will be crucial to boosting Nigeria's 5G adoption and indeed digital economy which will lead to accelerating internet access for millions through increased mobile broadband penetration.
We'll be ready for 5G, 2020
Meanwhile, the Executive Vice Chairman of the Nigerian Communications Commission, NCC, Prof Umar Danbatta has promised that Nigeria would be fully ready to adopt 5G in 2020.
Speaking at a collaborative meeting between NCC and GSMA in Abuja, to facilitate 5G policy and spectrum, Danbatta, said although NCC was not ready at the moment, in terms of policy and regulations, it has however kick started processes and reserved three frequency bands to facilitate 5G roll out.
He promised that Nigeria would do anything possible to stay ahead in innovation and new tech developments, considering that economies all over the world have become dependent on mobile communications.
He said: "In the world we live today, mobile communication is a cardinal tool of economic development, growth and integration, and the mobile industry is a key enabler of productivity across economies and societies.
"The mobile industry is not only a significant contributor to the economic activities of Nigeria, but also towards the growth of other sectors of the economy. The Nigerian Communications Commission has been, and continues to play a key role in the development of mobile communication in Nigeria, and I am delighted to be part of this event today. This provides an avenue for regulators, operators, investors, and other relevant stakeholders to examine, share and constructively exchange ideas."Guidelines to 5G adoption
Releasing guidelines for Nigeria to perfectly adopt 5G network, Goodluck advised that Nigeria retires the Digital Mobile Licence, the National Carrier Licence and the International Gateway Licence; eliminate superseded conditions in the Unified Access Service Licence (UASL) and migrate many others towards a supplementary general UASL conditions document or to parallel regulations.
2019: Restructuring will shape `Midwestern region' voting pattern — Obaseki
The guideline also wants Nigeria to transition to an indefinite duration for the UASL and guarantee a true unified approach to licensing, permitting licensees to offer the full range of services, as per the UASL scope of services provision. It charged the country to also provide coverage obligations via radio frequency licences.
Harmonised Spectrum
GSMA also identified harmonised spectrum as fundamental building block for Nigeria's digital future. It said the harmonisation of 1427-1518 MHz and 3.3–3.6 GHz makes them critically important bands for mobile operators seeking to offer new mobile services to consumers and businesses.
"Making these bands available for assignment to mobile operators will be a core component in reinforcing Nigeria's position as Africa's leading mobile market".
Highlight of GSMA report
GSMA research shows that the mobile market in Nigeria makes an important contribution to the economy. The mobile industry contributed $21 billion to GDP in 2017, representing 5.5 per cent of Nigeria's total GDP. In addition, the growth of Nigeria's digital economy resulted in the creation of nearly 500,000 direct and indirect jobs.
Accelerating adoption
Growth in the adoption of digital services by government, businesses and consumers is having a positive impact on daily life in Nigeria. For the majority of Nigerians, mobile broadband is the first and only technology for accessing the internet, enabling better access to health, education and commercial opportunities, amongst other public services. Smartphone adoption has already risen to over 53 million connections, and 49 per cent of the population are currently connected by mobile technology, compared to less than one per cent, having a fixed-line connection.
Cybersecurity: Smartphone users to enjoy world-class features with ESET, Airtel innovative offer
However, the report said that there is still broad scope for Nigeria to increase its mobile penetration. Although more Nigerians are getting access to mobile broadband, the country lags behind regional peers in 4G adoption. Helping to accelerate adoption would enable more advanced services and create bigger social impacts.
The report concludes that with increased spectrum harmonisation and licensing reform, the country's mobile penetration is forecast to rise to 55 per cent of the population by 2025, with 70 per cent having 3G connectivity and 17 per cent having access to 4G networks.
Subscribe for latest Videos