• Says he shed tears over testimonies
By Sam Eyoboka & Olayinka Latona
THE spectacular miracles that attended the just concluded 21st Holy Ghost Congress of the Redeemed Christian Church of God, RCCG, had encouraged the General Overseer of the church, Pastor Enoch Adejare Adeboye to boast that the RCCG founded in 1952 by Rev. Josiah Olufemi Akindayomi is not an ordinary church.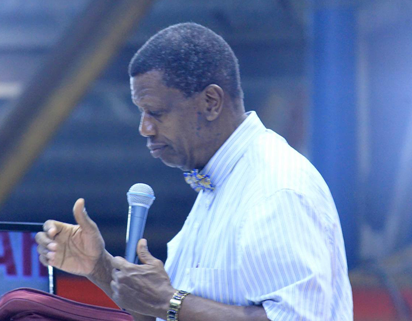 Declaring the week long spiritual fiesta with a theme: "Glory Ahead" close, Pastor Adeboye told the crowd of worshippers at the thanksgiving service that he would remain eternally grateful to God for the success of the programme in spite several unnamed challenges including attempts by the powers of darkness to use the traffic on the Lagos-Ibadan Expressway to rob participants of their joy.
Meet with Corporate social responsibilities, Okowa tells organized private sector
According to him,  "I can boldly say I have never seen anything like this before. I thank God for revelation of His word! I thank God for answered prayers! I thank God for mighty testimonies! Many at times I sat down there and tears come to my eyes when I consider some of the testimonies I had.
"My children went to do the work of God and they were returning, people who dressed like soldiers came from no where and were raining bullets on them. Bullets that shattered the windscreen of one vehicle after another; again and again and again and not a single one was hurt! I just want to thank God.
"I want to give you all one assurance, this is not an ordinary church. This is the church of God. He's the owner of His church and He is more than able to take care of His church. Probably because so many miracles are happening in our midst, there is this tendency for us not to value these testimonies the way they should be valued.
"When someone comes here and says she has been barren for seven years and God has given her a child, we say sit down jooooh. We've had bigger ones! Count the number of times the woman had wept; when the month ends, she'll be hoping it'll be this month and it wasn't that month. And another month and another month, and another year, third year, fourth year….!
"And then we heard the story of a woman who had been barren for 34 years until she was over 50 years old and God decided to answer, and we just take it anyhow. God have mercy! And then we heard testimonies of somebody who went to the hospital because there was a lump in her breast and they said it's cancer and the only way to save her life is to cut off the breast.
"She had no choice; so they went ahead and cut off the breast. And a handkerchief that got anointed just because somebody waved his hand was given to that lady and three weeks later the breast grew back.
RCCG inaugurates His Love Foundation
"When Jesus said the works He did, greater works shall we do, we already see these things manifesting in our lives. Not just in the life of the General Overseer but in the lives of the congregation! Why don't you shout Halleluyah to the Almighty God!
"And then God, the Omnipotent God, the original majesty, the One who does as He pleases, decided that He will give us a whole one hour, and that the rest of the world can wait. One hour of the time of the Almighty God! Why don't you stand on your feet and shout a big Halleluyah!
"I just want to pray for you now but I will want you to go home and for months to come, just remember this period and thank God. If you have nothing to thank God for,  thank God for me," Adeboye stated.
"My father and my God once again I want to say thank you, you know my heart, what my mouth cannot say,  my heart is saying it today. On behalf of all these your children, thank You.
"Accept our thanks in Jesus name. I commit all your children into your hands, even as they go, go with them. Everyone of you particularly who had stayed behind for your thanksgiving and those of you doing all your thanksgiving in the various churches all over the world, it shall be well with you.
"The blessings of this week will last forever. The miracles of this Congress will never slip out of your life. The God I serve Who stood by me throughout this Congress will stand by you. He will not leave you. He will not forsake you. Your light will continue to shine. Your salt will not lose its power. You will be great ambassadors for Christ.
"Your healing ministries will now begin to blossom. Everything you touch shall prosper. Forever you will remain the elect of God. You will be the habitation of the Most High. God will never leave you, He will never forsake you. He will promote you. He will take you to great heights. The everlasting arm will keep on lifting you up. And you will enter the new year with joy. You will spend the new year with joy.
"The days ahead of you will be days of glory. And you will serve God till the end. If the Lord tarries, I will see you in the new year. If He comes before we meet again, none of you will miss heaven. So shall it be," he prayed.
16 years of childlessness ends at Redemption Camp
The RCCG is considered one of the fastest growing churches in the world. With a vision/mission of having a member of the RCCG in every family of all nations and planting churches within five minutes walking distance in every city and town of developing countries and within five minutes driving distance in every city and town of developed countries. It has already established foothold in 197 countries of the world.
One of the highlights of the just con-cluded Congress was the birth of 53 babies at the church's maternity within the sprawling Redemption Camp during the seven days of the programme.
Prays for nation's peace
Apart from Adeboye, this year's Holy Ghost Congress also featured seasoned gospel ministers from across the globe. The long list included: Mother-In-Isreal for RCCG, Pastor (Mrs.) Folu Adeboye, Rev. Joe Olaiya, Presiding Bishop of TREM, Dr. Mike Okonkwo, General Overseer of the International Central Gospel Churches, Pastor Mensa Otabil, immediate past National President, CAN, Pastor Ayo Oritsejafor, Pastor J.E. Bamidele Sturdivant, Rev. Moses Aransiola, senior pastor of New Life Covenant Church in Harare, Zimbabwe, Bishop Tudor Bismark, Pastor Charles Achonwa, Prophet S.K.  Abiara, Bishop Wale Oke, National President, PFN, Rev. Felix Omobude, Rev. (Mrs.) Mercy Ezekiel, Pastor Taiwo Odukoya, Pastor Stephen Rathod, Pastor Peter Amenkhienan,  the leader and founder of Vinesong Ministries, Pastor John Watson    Pastor Johnson Oluwatomisin J.T. Kalejaiye among others.
Wife of RCCG's General Overseer of Pastor Folu Adeboye who led the large congregation to pray for peace in all the nations of the world, urged Nigerians to call on God to defend the country against enemies fighting its peace and prosperity. Adeboye told the mammoth crowd to celebrate the God of Nigeria for His unmerited favours upon the nation.
In her words: "Lord please remove every agent of destruction in our nations and let us experience divine peace and progress.
"We have to pray for our leaders, they need help. Whatever will not allow them to be partakers of God's glory should be removed from them. God should please remove all counsellors and advisers around them who will not allow them to do well," she prayed.
The Holy Ghost Congress started on December 18, 1998 as an all night preaching and praying programme tagged Lekki '98 at the Lekki Pennisula in Lagos which later metamorphosed to the annual global event called Holy Ghost Congress.
The size of the venue on the Lekki Beach of the Atlantic Ocean was two kilometre by one kilometer, and according to CNN reports, the event attracted over four millions persons from across the globe to the one night of praise, prayers, word and power ministration with great signs and wonders following.
The theme of that pioneering revival was "Divine Visitation."