Thomas Vermaelen still has a Whatsapp group with his Belgium team-mates at Tottenham but when it comes to Barcelona's plans for their Champions League match at the Camp Nou on Tuesday, all concerned are keeping quiet.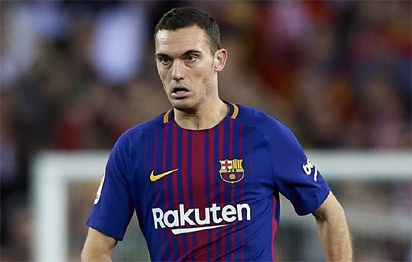 "We talk all the time but they know they can't do anything about who will play," says the former Arsenal defender in an exclusive interview with AFP, referring to the possibility that Lionel Messi may take the night off.
That would be a massive boost for Spurs, with Barca already guaranteed to finish first in Group B, and possibly ready to rest their Argentinian star ahead of Sunday's game against Levante, the only team to beat them in La Liga last season.
For Tottenham to reach the Champions League next round, they need to match or better the result of Group B rivals Inter Milan, faced with the easier task of winning at home to PSV Eindhoven.
Vermaelen, back from a hamstring injury, could be called on to play against an opponent he knows well and against whom he enjoyed some of his favourite moments for Arsenal in the Premier League before his move to Barcelona four years ago.
"My favourite was maybe in my first or second year when we were losing 2-0 and ended up winning 5-2," Vermaelen said. "I can still remember now the celebrations after in the changing room. The smell of the game, the noise. Those games against Tottenham at the Emirates were amazing."
In 2012, Arsenal were still the lead force in their duel with Spurs while Vermaelen was one of the division's most impressive central defenders, known as the "Verminator".
Vermaelen still watches Arsenal and thinks Unai Emery is doing a "great job".
"I saw the last derby and you can see the atmosphere, how much it means every time, it was unbelievable," he says. "I was really happy to be there for five years, I miss it. When I see the stadium and them doing well…I have good memories."
He left in 2014 when Barcelona made an offer of 19 million euros but injuries have limited his impact in Spain, especially during his debut season when he played only a single match.
Messi made me better
"I have no regrets. I came here to be surrounded by the biggest players in the world and that is something very special," Vermaelen said. "It is not easy to start every game of course but overall I've been very happy. To be on the pitch with these guys, every day, I feel very blessed."
Messi is one of those. "In training he is the same as he is in matches," Vermaelen says. "Imagine facing that every day! He has made me a better player."
With Samuel Umtiti out injured, Vermaelen could yet play an important role this term but his contract expires next summer and the 33-year-old is considering his options, including a return to England.
"It is not impossible, I have warm memories of my time in England and I was very happy there."
Much can change in six months and Barcelona are competing on all fronts. They won the double in May but disappointment lingers from the shock defeat to Roma in the Champions League quarter-finals. Their coach, Ernesto Valverde, was blamed for not resting players enough.
"The expectations are very high," Vermaelen said. "We can't think of it as a problem because that can also make it more difficult. It is just the Champions League is very tough to win," he said.
Complicating matters is the possibility of a controversial trip to Miami next month, where La Liga want to stage Barcelona's away fixture against Girona.
"It's all a bit strange," Vermaelen said. "Girona misses a home game and players have to travel so many hours already, on top you then have to go to Miami? That's not very easy on us."
On Tuesday against Tottenham at Camp Nou he expects to see Belgian pals Jan Vertonghen and Toby Alderweireld but also Harry Kane, whom he faced twice during Belgium's wins over England at the World Cup.
Kane has four goals already in the Champions League and his name is regularly linked with Real Madrid.
"He scores goals but in play too he is strong, which is not so common now," Vermaelen said. "He is at that level where he could play for any club in the world, a complete player, no doubt."
Subscribe for latest Videos