Solemn preparations were underway Sunday for America's national farewell to George H.W. Bush, whose casket is to be flown from Texas to Washington aboard a presidential aircraft to lie in state at the start of a days-long state homage.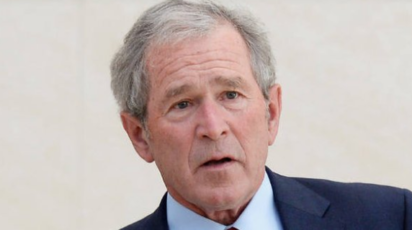 N150m bribe rejection: Operators fault Customs
The 41st president died Friday, aged 94, at his home in Texas — "a very gentle and peaceful passing," his lifelong friend and advisor James Baker said Sunday on ABC.
To commemorate the first former president to die since Gerald Ford in 2006, officials have announced a detailed, four-day schedule of celebratory services and homages, organized with military precision by the Pentagon task force charged with protecting the US capital.
Its culmination will be a state funeral at Washington's National Cathedral on Wednesday, a day President Donald Trump — who had often clashed with the more staid and centrist Bush family — has declared a national day of mourning.
– Lying in state –
The week's events begin at 1630 GMT Monday, when Bush's remains are to be flown aboard the presidential Boeing 747 known as Air Force One — made available at Trump's direction — from Houston to Joint Base Andrews, Maryland.
Bush will lie in state in the Rotunda of the US Capitol from Monday evening Wednesday morning, under the watchful gaze of an around-the-clock honors guard.
The casket will then be transported to the cathedral for the funeral service — the fourth there of a former president.
Trump has said he and wife Melania will attend. Dozens of foreign leaders and US luminaries are expected. Former Canadian prime minister Brian Mulroney told Politico he will deliver one of several eulogies at the service, at Bush's request.
The casket will then be flown back to Houston, where the former head of state will lie in repose at St. Martin's Episcopal Church — where the Bushes worshiped for decades — until a funeral service at 1700 GMT Thursday.
The remains will then be transported by train for interment on the grounds of the George Bush Presidential Library in College Station, Texas. Bush will be buried next to wife Barbara, who died in April, and daughter Robin, who died of leukemia aged three.
– Tributes from friends –
Baker, who served Bush as secretary of state, joined others in paying warm tribute on Sunday television shows.
Baker called him "far and away the best one-term president we have ever had," alluding to Bush's single biggest political failure — his loss in the 1992 election to then-governor Bill Clinton.
Baker instead emphasized his friend's foreign-policy successes: navigating the end of the Cold War, negotiating two nuclear arms-reduction treaties, and summoning a varied global coalition to eject Iraqi troops from Kuwait in the first Gulf War.
Colin Powell, who was chairman of the Joint Chiefs of Staff during that war, said he was confident in Bush's leadership because, as a World War II veteran, "He knew what combat was all about. He knew it meant the death of people…He wanted to avoid a war."
– Lifelong partnership –
Baker was a young lawyer in Houston grieving his wife's untimely death when Bush, his tennis partner, persuaded him to try something new: help Bush run for office. That partnership eventually took Baker to a career as secretary of state and secretary of the Treasury — and Bush to the White House.
Baker saw his friend several times in his final days.
The former president had struggled for years with Parkinson's disease, which left him wheelchair-bound and repeatedly hospitalized — including after Barbara's death. After each time "he would bounce back," Baker said on ABC.
But by Friday "he began to go downhill… He hadn't eaten for three or four days."
Still, when an aide told Bush his friend was visiting that day, "he perked up. He opened his eyes. He looked at me, he says, 'Hey, Bake. Where we going?'"
"We're going to heaven," Baker said.
"Good, that's where I want to go," Bush said.
Baker said Bush's last words, in a phone conversation with son George W. Bush, were these: "I love you too."