By Ike Uchechukwu
CALABAR—There was pandemonium at Ikot Ekpo a community on the outskirt of Calabar, Monday evening, as a truck crushed a middle-aged man along the Murtala Mohammed Highway and a mother of two along abattoir road in Ikot Ekpo.
Vanguard gathered that the tragic incident occurred when a truck rammed into an unidentified middle-aged man killing him on the spot and while trying to escape from being mobbed, the truck driver drove recklessly into Ikot-Ekpo along Abattoir road killing another woman.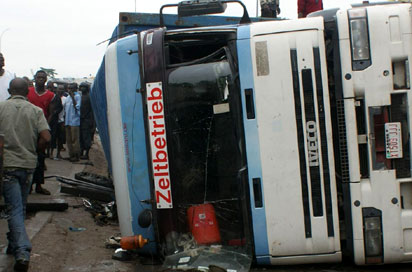 An eyewitness, Nelson Asuquo, said: "The driver of the truck, who was probably on hard drugs, was on high speed when he suddenly hit a middle-aged man walking on the road. When he knocked him down he tried to escape through Ikot Ekpo unknown to him, the community has no exit route.
"As he was trying to escape through that route which leads to Ikot-Ekpo, Bakoko, and Nassarawa communities he knocked down a mother with her two children killing the woman on the spot but the children are in the hospital as we speak.
https://www.vanguardngr.com/2018/11/illegal-haulage-dangote-partners-public-to-arrest-erring-drivers/
"When we got to him, he looked drowsy and high on drugs. On interrogation, we confirmed that he was using Tramadol to drive so that he won't get tired and that he has been using it for years.
"The truck has been taken to Ikot-Omin police station as the police prevented the mob from lynching the driver of the truck, but we are consoled by the fact that the two children are responding to treatment even though their mother is now dead," he stated.
When contacted, the Police Public Relations Officer in Cross River, DSP Irene Ugbo, confirmed the incident adding that the truck was now parked at Ikot-Omin Police station.
She said:" It is true that a truck killed two people; the first person was killed along the Highway while the second person, a mother was killed around Ikot Ekpo.
"We have warned the public not to take laws into their hand, by applying jungle justice at any given time."