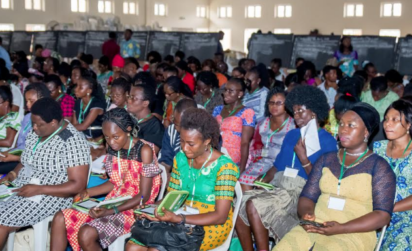 A trainer taking teachers through in the use of Information Communication Technology (ICT) tools for teaching, at the Samuel Ogbemudia College in Benin City, Edo State capital.
… Gives December 2019 deadline on weeding of unqualified teachers
By Joseph Erunke
ABUJA – THE Teachers Registration Council of Nigeria,has said a total of 250,000 teachers must be employed annually in the country to address the shortfall of teachers in basic and secondary school levels.
This was even as it gave December 2019 as deadline it would stop non professionally trained teachers from the teaching discipline in the country.

Registrar of the council,Prof. Josiah Ajiboye, addressing newsmen, yesterday,in Abuja, reiterated that 250,000 teachers was needed annually to be able to address teachers' deficit in the primary and post-primary schools.
According to him,"Some teachers are leaving the profession; some are retiring and are not being replaced. We need about 250,000 teachers annually because we have a shortage of teachers. The insurgency in the Northeast has made the situation critical," he said.
While revealing that the country at the moment had over two million qualified and registered teachers in its public and private primary and post-primary schools, Ajiboye said TCRN had registered more than 500,000 qualified teachers since 2016 as part of efforts to eliminate quackery in the teaching profession.
He said:"Within the period that I have been in the saddle, over 500,000 teachers have been registered within the period of two years, because before I came, they registered just over one million but about now, we have close to two million teachers that have been registered."
He said teachers who do not have the basic qualification requirement for teaching, which according to him remains the Nigerian Certificate in Education ,NCE, have till December 2019 to get the necessary qualification and come forward for registration by TRCN or be shown the way out of the profesion.
Ajiboye explained that the National Council on Education which is the highest decision-making body on education has ratified the deadline at its meeting held in 2017 in Kano.
"The Council had taken a position a long time ago and it was reaffirmed at its Kano meeting in 2017 that anybody that is not qualified, not registered and licenced by TRCN by December 2019 would not be allowed in a classroom.
"The moratorium period was two years and we now have a year to go. By January 2020, we will begin to do enforcement and remove them from our classrooms," he said.
The TRCN, he added would start the elimination of unregistered teachers from the profession in 2020 using six states as a pilot study.
https://newlive.vanguardngr.com/2018/10/support-group-sensitizes-public-on-pvcs-collection/
The states are Nasarawa State for North Central, Ogun for South West, Ebonyi for South East, Cross River for South South, Jigawa for North West and Bauchi for North East.
"We have the list, we have the database of those who are qualified and those who are in school teaching but not qualified. It is going to be a continuous exercise. We will cascade to the rest of the country and route out those who are not qualified from the profession," he said.
https://newlive.vanguardngr.com/2018/11/how-simi-plots-to-floor-wizkid-tiwa-others/