The League of Policy Analysts on Security have nominated Nigeria's Chief of Defence Staff, (CDS) General Abayomi Gabriel Olonisakin with the "2018 Legacy Achievers Award."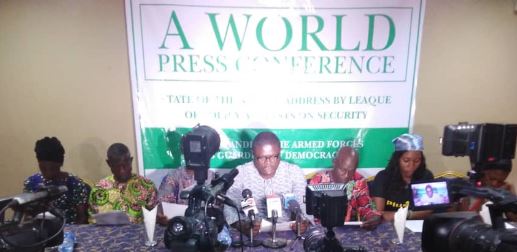 Comrade Festus Akintola, Executive Secretary, of the group made this known at a state of the nation press conference held on Monday in Lagos.
The press conference was on the state of the nation and the role of the armed forces as Guardian of Democracy.
He said in the category of 2018 Legacy Achievers Award, Olonisakin emerged winner as a result of his credible landmark, recorded in the realization of peace and security in Nigeria through his coordination of the Defence architecture of the country to achieve set goals and objectives that have kept Nigeria as one.
"Through the effective coordination of the CDS, troops deployed by the three services were able to restore peace to the once troubled region of Nigeria's North East and this has greatly promoted the attainment of democratic tenets across the country because democracy cannot thrive in the absence of security. In other words, any country ravaged with chaos cannot practice obtainable democracy.
"We applaud the obvious roles showcased by General Abayomi Olonisakin and we are tasking the trailblazer to build on his renowned achievements by striving to ensure Nigeria and Nigerians record a free and fair electoral phase as the country anticipate the conduct of the 2019 General Election.
"We want to equally thank the CDS for his harmonization of the Nigerian Military towards the achievements of its operational goals. The Nigerian Military under the able watch and guide of General Olonisakin has recorded greater feats compared to his predecessors. It is worthy of note, that the CDS was able to curb the ugly menace of insurgency across the country through his positive and proactive contributions to save humanity from the vestiges of insecurity. Nigerians are greatly indebted to this great Nigerian and his professional conducts is commendable.
"With a heart full of grateful commendations, we sincerely wish to note that the presentation of this  award coincides with the 2018 World International Day of Human Rights. This is an attestation in tandem with the firm beliefs of General Abayomi Olonisakin who is renowned for the promotion of Human Rights ideals in the country. It is also on record, that the Nigerian Military under his watch, instituted a Human Rights Desk to cater for reports anchored on cases of human rights abuse. This is also commendable.
"We acknowledge the fact that the Nigerian Military under the steering abilities of General Olonisakin has paved way for the development and improvement on the paths of democracy in Nigeria and in effect on the African continent thus this award is absolutely long overdue. We wish that the presentation of today's award to the befitting recipient will further spur the CDS to do more in the promotion of peace and security in the country as well as the realisation of democratic ideals within Nigeria.
"At this juncture, on behalf of the League of Policy Analysts on Security, I humbly present the "2018 Legacy Achievers Award" to the undisputed champion of excelling military attributes and a preserver of the contemporary yearnings of Nigeria's democracy."
Subscribe for latest Videos