•More than 38 persons likely still buried in rubble – Survivor
•'How tragedy happened as victims waited to collect wages'
By Egufe Yafugborhi
With dozens of victims still feared trapped and rescue operations hindered by inadequacy of equipment to cut through each of seven 28-inch concrete decking now piled against its basement, the collapsed Port Harcourt building has assumed a monumental tragedy.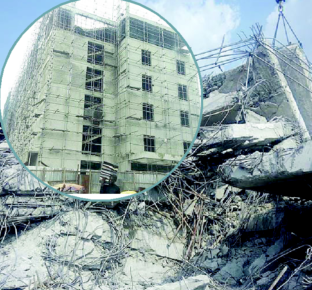 Nobody is sure exactly how many persons were in the basement and those on the ground floor when all of the six and partly completed seventh floor came crashing down. However, Chigozie Anayo, 27, a concrete caster at the failed project, who cheated death with facial injuries, could only estimate. "We were many. If they say we are only 38 that have come out, I believe we have more than that number still trapped", he told Sunday Vanguard.
"It was pay day. Even those who had no duty to carry out that day were alerted to come and collect their wages, so were some contractors. Some were in the basement all eager to have their share of the millions of Naira in wages brought and trapped".
At press time on Friday, eight days after the tragedy, the rescue team, supervised by Rivers State Commissioner for Special Duties, Emeka Onowu, put the casualties at eight mortalities and 26 survivors.
Through the weekend of the collapse, hopes were high of more persons coming out alive as rescue operations continued, just as some relatives could still engage trapped victims in phone conversation, confirming they were still alive as they cried for help.
Regrettably, after a lucky survivor, simply identified as Ogoni born Christian, was pulled out bleeding on the nose five days after the collapse, further hopes of pulling out more victims alive were dampened amid feelers that underground flooding was rising to suffocating levels on the basement where most victims had remained safe.
Rotary's interest
The dimming hopes have, however, not deterred relatives of still trapped victims from keeping vigil at the tragic incident's site. Among the expectant crowd still keeping vigil at the scene of the tragedy are members of global charity group, Rotary International, who have opened a stand at the spot.
Many third generation banks are also visible at the site with the speculation that they may be among institutions supporting the rescue operations.
Though known for health charity and social investments across the world, Rotary's robust visibility at the scene, to the extent that its Nigerian member on the international board, Yinka Babalola, had to show up, was provoked by reports that one of its own, Rotarian Ihionu Ekene Morgan, was among victims still trapped in the building.
Morgan, a member of District 9141 of Rotary, Nigeria, is said to be the supplier of scaffolders for the collapsed building.
Chimezie Ihionu, Morgan's agitated cousin, had narrated to Sunday Vanguard, "We were at a stone throw, The Boss Club, playing snooker when Morgan was alerted that money had arrived to pay workers and suppliers.
"Shockingly, someone called less than five minutes later that the building had collapsed and Ekene (Morgan) was inside. We have stayed put at the scene since Friday. Ekene was calling us among others trapped inside. This (penultimate Saturday) morning, his phone is no longer reachable."
In the hope of seeing its member make it out alive, Rotary has been a big contributor to the rescue efforts, providing hospitality to rescuers and, at some point, assisting in the mobilization of equipment.
Meanwhile, Governor Nyesom Wike, who declared the owner of the building wanted to face inquiry, and the police authorities in Rivers, who now have the landlord and other key stakeholders in custody, have refused to reveal his (landlord) identity. Speculations have however mostly pointed to a Bayelsan born power broker with vast investments in hospitality business in Port Harcourt and beyond.
Police Public Relations Officer, Rivers State Command, Nnamdi Omoni, confirmed that the architect and other key persons involved in the failed project were also in custody.
Omoni said, "The owner of the building has been arrested. He's with us helping with investigations. We also have with us the site engineer, the architect, the builder himself. We have been able to get statements from some of the survivors, sharing their accounts of what has happened.
"Investigations are discreet. We have also deployed our Anti-Bomb Unit. Our men are probing to also try to see other possible angles, like if there was any sabotage."
Omoni expressed the police's disappointment at the failure of Rivers State Urban Development Ministry's officials to respond to the police invitation to offer explanations on government role on approvals for the construction of the building.
However, before Omoni's reservations, the Urban Development Ministry's Commissioner, Dr Reason Onya, had resigned his appointment.
Onya, in a statement, told Rivers people, "After due consultation with my family on the collapsed seven-storey hotel building under construction, I have decided to 'step aside' as the Honourable Commissioner for Urban Development and Physical Planning on 28/11/2018 during the State Executive Council Meeting.
"The building plan was approved on 18/7/2014 and revalidated by me on 14/9/2018, because the file was missing. To those that lost their loved ones, I am pained, so pained that each time I visit the site, my heart bleeds; each time I hear news of it, I am perturbed.
"I am sincerely sorry for all the pains you all have gone through in the cause of this that my official assignment is involved."
Blame game, public anger
From professional bodies involved in the construction or monitoring of projects of this nature, to residents and relatives of loved ones, the tragedy has generated into blame game. While the state branch of the Nigerian Institute of Architects, through its Chairman, Asommba Egbuonu, blamed relevant ministries' officials for lack of professionalism, others pointed to greed on the part of the project owner and compromise by supervising engineers and contractors engaged to deliver it.
Ihionu, cousin of still trapped Morgan, lamented, "There has been no sense of urgency or coordination in the rescue operations. The body language of the rescue team seems to be of hope lost. We have overheard them saying there could be no more survivors. It is too early to draw such a conclusion.
"They have informed us that Julius Berger is in charge of the rescue operations yet the only Julius Berger branded equipment on site are ambulances and Hilux vans. "No diggers, cutters, cranes or any requisite equipment/motors belonging to them are here. The excavators seem to belong to MCC.
"Time is of the essence now. We are heartbroken and helpless, unable to do anything as our loved ones wither within the rubble of this site."
Survivors' stories
Meanwhile, at the Braitwaite Memorial Hospital, Port Harcourt, 39-year-old Emmanuel Ikuje, one of the earliest survivors to be rescued, under medical attention, said he could not explain his escape.
Ikuje, a Benue indigene, said, "I have been doing oil works for such big projects for years. What I have seen is one or two floors drop down from defects. I have never encountered a case where the entire floors of a seven-storey building crumbled to the foot.
"I narrowly escaped. Several persons, I can't give exact figures, were on the ground floor waiting to be paid from the money we heard the project owner brought. Suddenly, the house came down on us, majority crowded at the front entrance area.
"I tried escaping the beam dropping towards me, but it struck me down by my right arm and a mix of sand and broken concrete covered me. I found it difficult to breathe and shout for help. After minutes of digging around much of my buried body, I came out alive."
Ejijah Benjamin, 21-year-old plumbing apprentice, was rescued with suspected broken spine as doctors probed into his case at the hospital where he lay motionless on a stretcher when Sunday Vanguard visited.
His mother, Gift Benjamin, told Sunday Vanguard, "He can't move his body. They are telling us his spine is affected and he can't open his mouth. He was supporting his boss on plumbing at the building project site. That his Oga is still trapped inside."
John Paul, 39, from Plateau State, another artisan rescued alive, couldn't talk from the pains of bruises sustained.
Paul's elder brother, Francis Pam, however, said, "His own is not too serious and the doctors have been giving him meaningful attention since government first moved some of them to a private hospital before the transfer to BMH. It is well. We thank God".
Subscribe for latest Videos