The Chief of Defence Staff, General Abayomi Gabriel Olonisakin has been nominated for the award of Garkuwan Matasan Arewa Najeriya.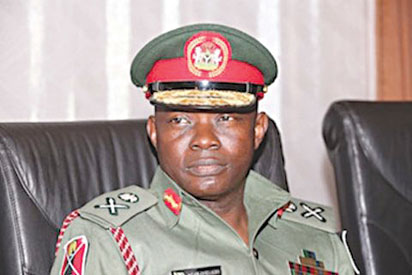 Akeredolu gets Heart of Gold Award over human capital devt
Olonisakin was nominated for the honour by the  Arewa Youth Council, a non-partisan  sociocultural group poised with the sole aim of encouraging the emergence of credible leaders in the country.
Explaining the reason for the nomination of Olonisakin for the prestigious award,  Comrade Dogo Shagari, President, Arewa Youth Council, said the CDS was penned down for the award for working for national security, the preservation of Nigeria's sovereignty and territorial integrity.
According to Shagari, Olonishakin defeated the last league of nominees to emerge the winner of this years edition defeating other nominated leaders like incumbent governors, heads of foreign missions and other heads of security agencies in Nigeria for his efforts the peace of the country.
He said, "Today, the various joint operations, collectively conducted by our troops under the able leadership of General Olonisakin has yielded tremendous results due to the professional assessments, timely deployment and prudent contributions of the incumbent  Chief of Defence Staff.
"Upon assumption of office in July 2015, General Olonisakin stated his readiness to provide new strategic and operational direction in the prosecution of the fight against terror in the country and he did not fail in keeping to his promise. Today, through the effective coordination of the CDS, the once dreaded Boko Haram insurgents are now running from their own shadows as they continue to live in perpetual fear while many of the insurgents fled the country, the remnants are struggling to survive because the troops are smoking them out of their holes on daily basis.
"In a complementing research, we also observed that activities of militants especially in the Niger-Delta region is now on the decline under the supervision and directions of General Olonisakin.
'The routine naval patrols and the interception of oil bunkers has deterred the foul engagements of the sea pirates and the Nigerian waterways is absolutely free from the engagements of the formerly dreaded militants who were renowned for kidnapping and killing of oil workers with foreigners falling as victims.
"In furtherance of his firm resolution when he assumed duty, General Olonisakin empowered the Nigerian Air Force (NAF) through the acquisition of world class aircraft which enabled the counter of the insurgents an early task that was successfully accomplished. Within three years in office, General Olonisakin succeeded in harmonising all existing military structures and innovated the formations of brilliant ideas which have since united the three military service under his watch.
"It is note worthy that in our 40 years of existence, this category of award, "GARKUWAN MATASAN AREWA NAJERIYA" was preserved perhaps because it was difficult to identify any personality who was befitting for the honour.
The event is scheduled for December 6, 2018 by 2pm at the Reiz Continental Hotel, Abuja
Subscribe for latest Videos