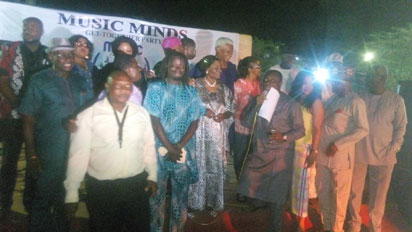 •Members of Music Minds
By Benjamin Njoku
It was indeed, a night of like minds who gathered to end the year in grand style. The event tagged, " Music Minds' Meet and Greet" held penultimate Friday, at Alakija Street, Yaba, Lagos , and it was graced by people from all walks of life.
The open-lawn venue itself was an ambiance of peace and tranquility, with the guests treated to old highlife tunes by Music Minds highlife band. The end of the year party was organized by a group of professionals known as the Music Minds. While the evening lasted, guests were dazzled as notable highlife maestros including Steve Black took turns to reel out old highlife tunes.
Many of the guests made up of senior citizens who are professionals in their rights could not resist the urge to dance and sing along as Steve Black performed some of the evergreen songs.
Veteran actress Taiwo Ajai-Lycett who chaired the evening was all smiles as she introduced members of the group to the guests.
Mr Akin Fatunke, a Charted Accountant and a communication consultant was on his feet throughout the night, welcoming the guests and managing the event.
Simi, Zainab Balogun, Mark Angel, Ahmed Musa win at 2018 The Future Awards
Fatunke said the aim of establishing the group was to promote highlife music and ensure that it did not die. According to him, they are trying to bring back the essence of good music into the consciousness of the people.
"We realized that our music of yesteryears  seem to be fading away and we are happy that some of the adherent of the old tunes are still alive. There have been attempts by some various groups to recognize them. What we have decided to do is not just recognizing them but also, asking them questions before they pass on, knowing  that in this part of the world records are few and far between."
"For various vintage music, highlife yesteryears, we have decided to document them. Because we are professionals in our different callings, we are also mentoring people and those we are mentoring we want to instill the idea of investing for tomorrow in them," he said.
U-17 AFCON: Golden Eagles to play Amuneke's Tanzania
Speaking further, Fatunke revealed that the group has about 155 members all over the world. He said that the group is comprised of professionals who have come together on a Whatsapp platform, exchanging ideas and commenting on posts concerning the state of the nation and well-being of Nigerians.
They only come together once in a year, according to the Chairman of this year's event, Taiwo Ajai-Lycett. Some of their members are based in Canada and other parts of the world. The members were virtually friends who interacted everyday, without knowing each other, hence getting together once in a year to match the faces with the names.
The night witnessed the honour accorded men who had contributed their quota in a memorable way to the music industry by promoting and supporting Nigerian musicians to break even and pull their weights. Those who graced this year's Music Minds, 'Meet &Greet' were Kunle Akinpelu, Sikuade Jagun, Dele Adetiba, Akin Fatunke, Muyiwa Adetiba, Sunday Odunlami, Roy Olokungboye, Mofe Oyatogun, Wande Adekanlu, Adebowale Yusuf, Babarinde Williams, Dammy Adejare, Tope Odebiyi, Ganiyu Jimba, Ope Omotayo, Muri Ayanbola among others. Aremo Segun Osoba was conspicuously abent at the event. The venue was Otunba Yinka Alakija's spacious premises at Jibowu, Lagos.