By Peter Duru, Makurdi
Indications emerged Wednesday that Nigeria could earn over N4trillion annually from yam production and export if the country adopts the Aeroponics System, AS, of yam production.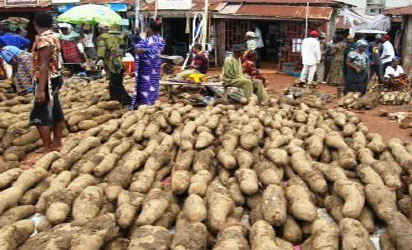 The was disclosed by Mrs. Perpertua Iyere-Usiahon, the Team Nigeria Vocal Person; Advocacy and Resource Mobilization of Yam Improvement for Income and Food Security in West Africa, YIIFSWA.
Mrs. Iyere-Usiahon explained that the Aeroponics System had also proven to yield more seed yam and disease free tubers.
According to her, "yam is a staple and economic crop with Nigeria being the highest producer globally covering about 3 million hectares and an average yield of 10 tons per hectare from farmer's field.
"Due to importance attached to yam in West Africa, the International Institute of Tropical Agriculture, IITA, set out to improve on the crop for better economic benefits under Yam Improvement for Income and Food Security in West Africa, YIIFSWA.
"YIIFSWA is set to achieve sustainable high quality seed yam production with the objectives of empower smallholder yam producers with the seed of improved varieties for increased productivity resulting in increased income.
"Develop a functional and sustainable seed system that delivers sufficient quantities of high quality seed of improved varieties to farmers at the right time and at prices that encourage adoption.
"Raise the awareness of the economic impact of the yam sector for increased investment and prioritization.
"Empower women to profitably participate in the commercial yam seed value chain within the context of the appropriate socio-cultural system.
https://www.vanguardngr.com/2018/11/the-ascendancy-of-amala/
"And in order to achieve the objectives, the challenges of yam production was examined which among others includes the inability to assess and use quality seed of improved varieties.
"A very low multiplication rate; often one plant produces only one seed yam. High cost of seed yam where available, high labour requirement, and problems of pests and diseases.
"This situation can only be addressed through a technology that can produce seed tubers of improved varieties, affordable to farmers, boost their income and is sustainable.
"In order to address the situation, at the YIIFSWA First Annual Progress Review and Planning Workshop held in Accra, Ghana, in September 2012, seed yam production technology was the central subject of discussion.
"A casual suggestion was made to the effect that there would be no harm in making an attempt to produce seed yam using aeroponics, a technique that was used to produce potato seeds in Kenya.
"YIIFSWA team led by Dr. Maroya took the suggestion very serious. In February 2013, YIIFSWA under IITA initiated the aeroponics system (AS) as one of the high ratio propagation technologies for seed yam tuber production.
"After nearly three years of experimentation, it was discovered that the AS can generate three types of planting materials for seed yam propagation. These are the mini yam tubers harvested in AS boxes, the aerial tubers known as bulbils in both water yam and white yam varieties, and one node vine cuttings.
"Under one node vine cutting, 200 – 500 nodes can be generated from one plant vine. It is a component of AS.
"On average, three tubers are harvested per plant on AS every 3 to 4 months. At the moment, private yam seed suppliers have already keyed into the Aeroponics system and one node vine cutting in the country including the IITA.
"This advocacy became necessary to sensitize farmers and other investors to take advantage of the new technology and grow their wealth.
"Hence we are all part of the value chains in one way or the other as producers, consumers of goods and services, processors, retailers, finance providers, etc. These chains stretch from growers to our kitchens, eating tables and beyond.
"At one end of the agricultural value chain are the producers – the farmers who grow crops. At the other end are the consumers who eat and use the final products.
"And in the middle are many thousands of men and women, and small and large businesses. Each person and each business performs one small step in the chain, and each adds value along the way – by growing, buying, selling, processing, transporting, storing, checking/aggregating and packaging.
"Other people and other businesses have important roles supporting the chain. Banks provide loans; governments establish laws and policies, and agricultural research organizations develop ways for farmers to more successfully participate in value chains.
https://www.vanguardngr.com/2018/11/lagos-committed-to-industrial-growth-ambode/
Continuing, she said, media houses also play an important supporting role. They can inform farmers about prices, value chain successes and innovations, opportunities for farmers to be involved in value chains, and help farmers understand how value chains work. Radio forms part of the extension and advisory services that support agricultural value chains.
"In an effective value chain, people at different stages of the chain actively support each other. When everyone in the chain supports everyone else, everyone does their job more efficiently, and everyone's livelihood is improved.
"Each person in the chain shares the common goal of satisfying consumer needs in order to increase their own profits."
Also speaking, the Chairman, Technical Committee on Nigeria Yam Export Programme, Prof. Simon Irtwange who stressed the benefits of the innovation to grow Nigeria's share of the export earnings from yam production, said the team was in Benue to sensitize key stakeholders in yam production in the state on innovation.
Prof. Irtwange noted that potential annual earnings of the country from yam export could quadruple earnings from rice, millet, cassava and sorghum put together hence the upmost need for investors to invest in the improved production method.