ABUJA- WOMEN under the auspices of Virtuous Women and Youth Empowerment Initiative, VWYEI, are mourning fallen soldiers and sympathises with their families.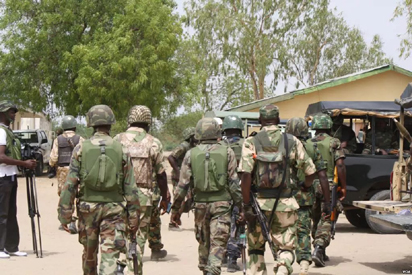 The National Coordinator, Esther Akwo, made this known while lamenting the number of soldiers who have paid the supreme price for almost 10 years the Boko Haram insurgency has lasted.
According to Akwo, the women are the most affected after such attacks and killings as they become widows immediately, therefore trauma, frustration, pain, fear, worry and poverty set instantly, because of no secured future.
It will be recalled that on November 18, 2018, over 43 soldiers were killed and many injured at their base at Metele near the border with Niger Republic by a breakaway faction of Boko Haram called Islamic State West Africa Province, ISWAP.
She said: "We are really down with the killing of 43 trained Nigerian army personnel on November 18, 2018 at Metele military base in Borno State. We are mourning because these are sons, brothers, husbands, fathers, uncles and nephews of mothers, wives, daughters and sons. They are human beings and fellow citizens like us.
"We are deeply pained when relevant authorities know what to do and are not swift enough to do what is expected of them to avert and avoid known dangers and threats by providing the necessary logistics to mitigate whatever could have been arrested.
"We commiserate with the families of these fallen heroes and the survivors of this brutal attack. We stand with you all in this moment of your grief and pain. God will comfort you. We believe God will raise new helpers to assist you."
She also called on the government and nongovernmental organizations to reach out to the bereaved families as most of them are really in need of assistance.
"We are calling on the federal government to quickly reach the deceased families as they are thrown into deep pain and are afraid of the future, especially the 43 widows and their children. Something should be done to soothe their pains so they can have strength and courage to move on", she added.
She further urged the government to do the needful by providing adequately for soldiers' welfare and equipment that would help preserve their lives in the fight against insurgency.
"We urge the government to do more in providing for the welfare and weapons of the military so they can drastically reduce the Boko Haram menace, and also should listen to their voice when they are seeing danger, and not to force them into unnecessary untimely graves", she stated.