By Onozure Dania
Stakeholders in the justice sector including the Attorney-General of the Federal, Abubakar Malami, SAN, Chairman Economic and Financial Crimes Commission, EFCC, Ibrahim Magu and Human Rights lawyer, Femi Falana, SAN have decried the worsening impact of cross-border corruption on the country.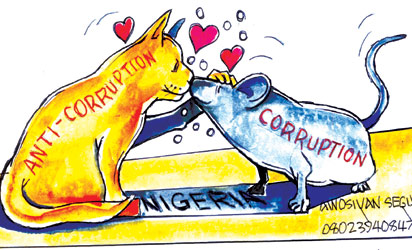 The stakeholders expressed the concern at the International Conference on Jurisdiction of International Criminal Court (ICC) and Cross-Border Corruption/Illicit Asset Recovery, organised by Human and Environmental Development Agenda (HEDA) in Lagos.
Speaking at the event, Malami who was represented by Dr. Omotayo Oni described the impact of cross border corruption as unimaginable and alarming.
According to Malami, the situation has led to the inability of many states of the federation to pay salaries of their staff and also not being able to provide basic amenities and infrastructure.
Malami also stated that the present administration inherited huge debts, adding that many parents can no longer afford to send their children to school.
The Acting Chairman of the Economic and Financial Crimes Commission (EFCC), Ibrahim Magu, in his speech disclosed that less than half of the country's funds looted over the years have so far been recovered despite concerted effort by the Federal Government to retrieve same.
Magu, who was represented at the event by a staff of the commission, Anslem Ozioko, noted that the prevalence of corruption and movement of illicit funds across international borders in modern times has been made easier by the advancement of science and technology.
He said: "Since the establishment of the Economic and Financial Crimes Commission (EFCC), it has been making concerted effort to plug loopholes in financial crimes and champion the legislation of new laws or amendment of existing laws where there are militating lacunas."