…as lifeless body of a lady discovered at DMGS roundabout Onitsha,
…Police dismiss allegation of victim's body dismembered
By Chimaobi Nwaiwu
A lifeless body of a lady, claimed  by some residents to be disemboweled by alleged ritualists, has been found dumped at at the popular Dennis Memorial Grammar School, DMGS, Onitsha, Anambra State.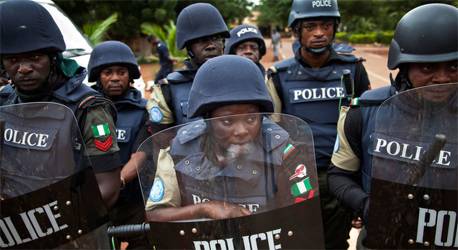 Residents of the  commercial city of Anambra State woke up on Wednesday to the gory sight of the lifeless body whose chest was said to be tied with bandages by the suspected ritualists.
Police/IPOB clash: Police parade 33 IPOB members
As the news of the body of the lifeless lady pervades the town, nearby residents, traders and those on early morning exercise at the Chuba Ikpeaze stadium, were seen rushing to the scene of the incident to have a glimpse of the unfortunate incident which they described as the first of its kind in Onitsha.
As at 7am when Vanguard visited the scene of the incident, the body of the lady had been removed by the police from the Central Station, Onitsha and taken to the mortuary at the General Hospital, Onitsha.
However, blood stains and a substance tied with black cellophane bag was still seen at the scene from where the body was removed by the Police.
Some eye witness described the murdered lady as a middle-aged, tall, light and plump who could not be less than 33 years old.
The witnesses said the alleged bandaging of her chest and breast region, which was dropping fresh blood, fueled the ritual killing claims.
They told Vanguard that the lifeless body of the lady with red bruises on her hands indicated that she may have had serious struggle with her killers and may have been killed somewhere in the town and dumped at the early hours of Wednesday.
"…Onitsha is not known for ritual killing, but as Christmas and election years are almost at hand, dubious people may have started invading Onitsha," said some of the residents.
Meanwhile, when contacted, the Onitsha Police Area Commander, Mr. Yahaya Abubakar, confirmed the incident but said it is the Divisional Police Officer in charge of Central Police Station, Onitsha that had details of the incident.
However, the Police Public Relations Officer, PPRO Mr. Mohammed Haruna, also confirmed the incident, but dismissed the story of the lady being dismembered.
According to him, "there was no mark of violence on her body."
"We have information of the lifeless body of a lady at DMGS roundabout, but no mark of violence seen on her body. The scene was visited by the Police detectives attached to CPS Onitsha and victim was rushed to the hospital where she was confirmed dead by a medical doctor.
"Corpse has been deposited at the mortuary for autopsy and case under investigation to ascertain circumstances surrounding the incident. "