By Johnbosco Agbakwuru
ABUJA—AS the story of one Jibril from Sudan being touted as the Nigerian President continues to spread like a wide fire, President Muhammadu Buhari Sunday in Poland said he is his real self and not cloned as being rumoured.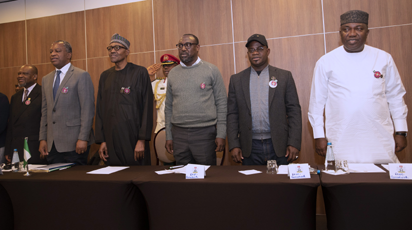 The social media has been awash that the person occupying the Presidential seat at the State House, Abuja, is not President Buhari that was voted into power in 2015 rather one Jibril from Sudan that looks like the President
But President Buhari who debunked rumors of him being cloned said a lot of people had hoped he was dead during the period of his ill health.
Responding to question from a Nigerian who wanted to know if he was the real Buhari or the much talked about Jibril from Sudan, at the town hall meeting in Krakow on Sunday evening, he said he is his real self.
The meeting provided him an opportunity to interact with Nigerians living in Poland, which was the President's first official engagements, ahead of the Conference of the Parties (COP24) of the UN Framework Convention on Climate Change (UNFCCC), taking place from December 2-4, 2018.
According to him, "It's real me, I assure you. I will soon celebrate my 76th birthday and I will still go strong.
"A lot of people had hoped that l died during my ill health. I will soon celebrate my seventy sixth birthday, l am strong."
The President described the sponsors of the rumors as "ignorant and irreligious."
He said, "Yes , a lot of people had hoped that l died during my ill health. Some even reached out to the Vice President to consider them to be his deputy because they assumed I was dead. That embarrassed him a lot and of course, he visited me when l was convalescing… It's real me, l assure you."
https://www.vanguardngr.com/2018/12/2019-buhari-osinbajo-deserve-re-election-enenche/
The Nigerian leader according to a statement by his Senior Special Assistant on Media and Publicity, Mallam Garba Shehu, said he was looking forward to celebrating his 76th birthday on December 17 and jocularly added: ''If I am getting harassed by anyone, it is my grandchildren, who are getting too many.''
The President had expressed his happiness with the report by the Nigerian Ambassador to Poland, Eric Adagogo Bell-Gam.
He used the occasion to reiterate that his government will continue to maintain focus and deliver on the three focal points of his campaign in 2015: security, economy and the fight against corruption.
''Those in the North East will tell you that in spite of the recent setbacks, there is a difference between the time we came and before.
''We are not doing badly on security, economy and agriculture. We have virtually stopped the importation of food especially rice and we are saving a lot of money.
''We now have food security and that has come with fiscal security because a lot of young educated people have not regretted going back to the farms and earning a respectable living.
''I am afraid, this is not receiving good publicity… but a lot of people in the rural areas are enjoying the benefits of our interventions in agriculture,'' he said.
He reaffirmed that no territory of Nigeria is under the control of Boko Haram terrorists and called on Nigerians to remain vigilant and supportive of Federal Government's efforts to ensure the security of lives and property in the country.
While acknowledging that it has not been easy financing the security sector in the country, the President said the Nigerian Armed Forces were equal to the task.
The President noted that it was regrettable that herdsmen and farmers clashes in the country have been politicised, assuring that the Nigerian government will continue to prioritise security because that is what many investors consider first before investing in the country.
On the fight against corruption, he said all recovered stolen assets will be sold and the proceeds returned to the treasury for the benefit of Nigerians.
https://www.vanguardngr.com/2018/12/buharis-achievements-in-agricultural-sector-listed/
On women representation in his government, the President told the meeting: ''I have plans for all Nigerians. I am not a male chauvinist. If I'm a chauvinist will I give the Finance Ministry to women?''
In his remarks, the Ambassador of Nigeria to Poland, Mr Eric Adagogo Bell-Gam praised Nigerians living in the country for being worthy ambassadors of the country.
Among those who met President Buhari were Mr Larry Ugwu, an Artist and Curator, who has lived in Poland for 40 years and has contributed immensely to promoting Nigerian cultural heritage in the Polish society; Anthony Egwuatu, a Gynaecologist, who has lived in the country for 30 years and Mr Olomofe Larry, a human rights activist, who has fought for justice for fellow Nigerians in the host country, among several others.
The event was put together and anchored by Hon. Abike Dabiri, Senior Special Assistant to the President, Diaspora.
He noted that Boko Haram strike occasionally, "This is because they understand the terrain better. It is not easy financing the war against terror."
Subscribe for latest Videos