Chairman of Senate Committee on Local Content, Senator Solomon Adeola (APC, Lagos West), has pledged to sponsor a bill for the protection and adequate welfare for journalists in Nigeria in the performance of their constitutional role in nation building.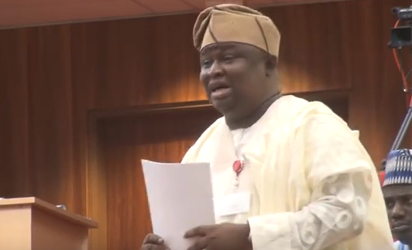 Making the pledge at a media interaction with members of Nigeria Union of Journalists, NUJ, Lagos Council, at Ladi Lawal Press Centre, Ikeja, weekend, to kick start his re-election campaign, Senator Adeola said he was motivated in making this pledge as a result of the fact that most of the major media establishments in the country have their headquartres and origins in his senatorial district with many journalists as his constituents.
Osinbajo presides over FEC as Buhari visits Borno
Adeola, who sponsored 15 bills in the eight Senate with two of them passed by the National Assembly as constitutional bills, added that it was deplorable that in the performance of its constitutional duty as the Fourth Estate of the Realm, journalism suffered from poor remuneration, non- payment of salaries for months by media owners as well as danger to their personal safety.
He stated that his 10 years stint in the finance department of a media organisation gave him an insight into the financial and other challenges facing journalists in Nigeria, stressing that as a profession constitutionally recognised, the profession should have some leverage in terms of remuneration, protection and other guarantees.
Earlier in a welcome address, Dr. Abdul Akinreti, Chairman of NUJ, Lagos Council, commended the senator for making it a tradition of kicking off his campaign with NUJ interaction.
Why Nigerian journalists can't report politics, elections fairly – Okah
According to him, there is need for the senator to do more in the area of welfare of journalists, especially with many journalists as his constituents, either as residents or workers, in the largest senatorial district in Nigeria.