Morayo Ajetumobi, a Year 10 student of Greensprings School, Lekki Campus has emerged the winner of the 2018 National Youth Speaking and Leadership Competition (NYSLC) for Secondary Schools and Sixth Form Colleges held at Oxbridge Tutorial College, Ikeja, Lagos.
Asked how she felt as winner of the competition, Morayo said: "I am extremely happy." According to her, she had no idea of the topic until the day before, but had no choice but to prepare for it, despite having series of tests in school.   "I will definitely prepare better for my next speaking competition, because I am sure I can do even better", she added.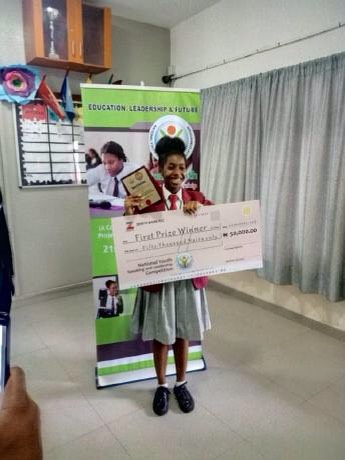 The event which commenced on the 21st of November with training sessions for secondary school students was organized partnership with Association of Private Educators in Nigeria (APEN).
https://www.vanguardngr.com/2018/10/shittu-drags-apc-court-over-disqualification-nysc-certificate/
In her remarks, the project organizers, Florence Olumodimu, Victor Ajufoh-Obi, Titi Idowu Akerele and Abiola Owolagba revealed that the competition was in two parts.
Florence Olumodimu said: "The first part was a prepared speech which lasted for four to six minutes titled 'The Role of the Nigerian Student in Nation Building. "The second part was an Impromptu speech for one to two minutes, on a topic assigned by the moderator.
"After   careful   evaluation by the panel of  judges,   each  student   is   scored   accordingly.
In the end, everyone lauded Morayo, a student from Greensprings School for emerging as winner of the 2018 National Youth Speaking and Leadership Competition.