BY JIMITOTA ONOYUME
"As a rule now in my house, we pour anointing oil and sprinkle holy water on our pants before wearing them because of Yahoo Boys". With these words, Alero, a female resident of Ubeji area of Warri, told Sunday Vanguard her family's strategy to escape ritualists on the prowl in Delta State.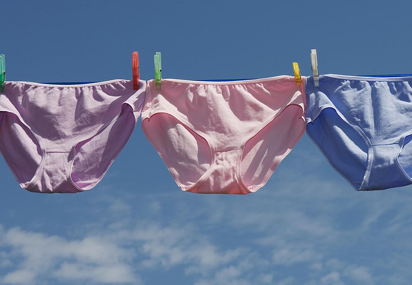 It was gathered that undies, particularly of girls between the ages of 16 to 32, are hot cakes for use by ritualists. One pant, according to some residents, sells for as high as two hundred and fifty thousand naira. The price can be higher when the 'boys' confirm " through science that the girl has not done any abortion", Esther, another resident in the area, said. The pants are allegedly used for money ritual. "After they finish with the pants, their owners will lose their wombs which is the real ritual", Esther added.
Alero, who lives with her parents, said she has three adult sisters. The anointing oil and holy water, according to her, had the capacity to neutralize any evil plan of Yahoo Boys on their pants.
For Tamera, a charming lady in her late 20ts on Jakpa Road, she and her mother no longer hang their underwears on the rope outside the flat in the compound where they live. "Because of Yahoo Boys, we no longer hang our underwears on ropes outside the flat in our compound", she said .
"We live with five other tenants in our compound . There are boys in the compound too. Since we heard the news, we have been hanging our pants in the bathroom; whether they get dry or not is no longer the issue. We sometimes use hot iron on them to get properly dry".
When asked if they also handled their braziers in like manner, her response was spontaneous, "Yes o. No difference between pants and braziers. We hide them very well now. Ladies pants na mega bucks for Warri".
I sit outside until my pants dry on the rope – Lola
A female banker with one of the first generation banks, who simply identified herself as Lola, lives in a one-bedroom flat around Estate area of Warri. She said she washes mostly on Saturdays and sit by the rope until her pants get dried. "I just bring out a chair, sit outside until my undies dry and I take them in. No room for gambling. The story is everywhere that people have been recruited to go for ladies' pants for attractive prices. Dem no go see my own ", she said.
Lola, in her early thirties, said since the news hit Warri that Yahoo Boys were after ladies pants, she has been very careful with personal effects.
Many girls now go to their boyfriends houses with no undies on – Rosemary
Rosemary , a student in Oghara, Ethiope West local government area, said many girls now visit their boyfriends without undies. "Oga journalist, you no know who be who. Even these our boyfriends, their eyes no clear. We are just gambling if it will lead to marriage. In the past when you visited your boy friend, if you were spending a night or two in his house, you took some underwears in your bag. But it is no longer so. You just go like that, not even with one. Just like that. You get what I mean , Oga journalist. No be my head dem go take break coconut", she said.
We avoid lonely routes at night – Esther
Esther, in her late twenties, said she heard some girls had been asked on the street at gunpoint to pull their pants or be shot. "It is so bad. We heard some people now go round in flashy cars looking for girls on lonely roads to order at gun point to pull their pants or be shot. You will just see a vehicle pull in front of you and guys will jump out. All they do is order you to pull your pants", she said
"So, in my house, we the girls don't go on errands at night. From 6pm you don't see us on the street. We also try to avoid lonely roads during the day".
The fear of Yahoo Boyz has become the beginning of wisdom  in Delta State. In the last three months no fewer than eight girls have been allegedly murdered for money ritual by Yahoo Boys.
The story of Elozino Ogege is one of them
There is also an unconfirmed incident at a shopping centre in Warri where a Yahoo Boy allegedly offered a girl fifty thousand naira to just caress her. It was a good deal , the girl thought , after all he was not going to have sex. So they reportedly hopped into the guy's car. After the guy finished, transfer of cash allegedly done to her account, she went to the convenience to freshen up.
"It was at the toilet she bled to death. Her friend who was with her that night was the one that raised the alarm, narrated all that happened to everyone",  a lady who did not want her name in print said.
Despite the seeming extra care on the part of many girls not to fall victim of Yahoo ritualists, some of the Yahoo Boys, Street Boys, Everywhere Stew Guys, as they are called in Warri, oftentimes boast, according to residents, "Baba God will always provide data for subscription". Data here means whatever they need for ritual while subscription means renewal of ritual to sustain cash flow.