By Henry Ojelu
A prosecution witness, Inspector Ekundayo Julius yesterday told a Lagos Special Offences Court sitting in Ikeja that Human Rights Lawyer, Femi Falana never visited suspected billionaire kidnapper, Chukwudumeme Onwuamadike also knowns as Evans.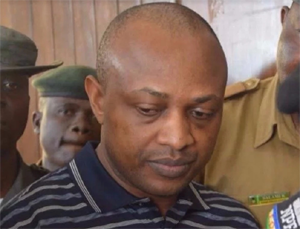 SARS reform public hearing ends in Lagos
Evans had earlier claimed that he was locked up in the toilet by officers of Special Anti-Robbery Squad, SARS, in Ikeja when Falana visited him.
But at yesterday's proceeding, Ekundayo told the court that such incident never took place.
"Femi Falana never came to our office," Ekundayo told the court.
Ekundayo also denied forcefully taking the Evans statement.
"His (Evans) lawyer was not there and none of his relatives was around," the witness said.
Before Ekundayo's testimony, Evan in a trial- within-trial insisted that he was threatened by men of the SARS to sign an already prepared statement.
While being led in evidence by his lawyer Olanrewaju Ajanaku, Evans said: "They brought some papers and asked me to sign. My mind told me not to sign and I refused.
"They beat me and one of them used something to hit my head. I was crying and begging them.
"They did not allow my people to come and see me. My father and brother came but they were prevented from seeing me
Prosecuting counsel, Adebayo asked Evans to identify the statement and read the content to the court.
After Evans read the content of the statement to the court, Adebayo asked if the information in the statement were true, but Evans insisted that not all the information were genuine. Evans added that he was compelled to sign the statement.
"Some of the papers were blank, other had some things written on them. I was not allowed to read the things written on them," said Evans.
When Adebayo tried to query further, Ajanaku objected, saying his client has answered the question.
Justice Oluwatoyin Taiwo adjourned the case till December 31 for the continuation of trial.