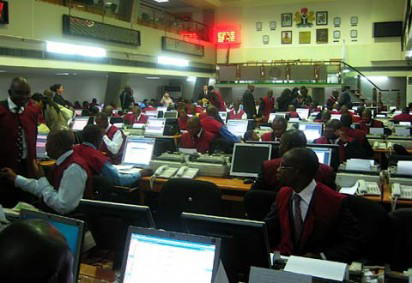 Stockmarket
By Nkiruka Nnorom
Operators in the stock market have said that the bearish trend that plagued the market last week will continue even as investors lose N293.69 billion in their equity investments.
Domestic equities recorded a third consecutive week of losses as sell pressure intensified across bellwether stocks. The market closed in the red on all trading days of the week, with the exception of Friday when with the Nigerian Stock Exchange, NSE, All Share Index (ASI) sheding 2.54 percent to close at 30,874.17 points, according to analysts projection. Consequently, the month-to-date, MtD, and year-to-date, YtD, losses increased to 4.90 percent and 19.27 percent respectively.
Also, the equities capitalisation declined by N293.69 billion or 2.54 percent to N11.271 trillion.
Naira sells at 364.22 to dollar at investor's window
In their weekly review of activities in the capital market, analysts at Cowry Asset Management reiterated a negative outlook for the market in view of the high interest environment, both at the domestic front and international level as well as the declining global crude oil price.
They, however, said that speculators would continue to scrap the market for short term gains as valuations and dividend yields remain attractive.
Also analysts at United Capital, another investment banking firm, said that the market would remain tilted to the downside amid a paucity of bullish triggers, as well as jitters surrounding events in the polity.
Cordros Capital also reiterated a negative outlook for the market in the short-to-medium term, but however, said that positive macro-economic fundamentals remained supportive of a recovery in the long term.
Equities pricing: Sell pressure may linger despite attractive valuations
Analysis of sectoral activities last week indicated that a mixed session as three of the five sectors recorded price depreciation while the other two rose. The oil & gas declined the most, falling by 5.12 percent, followed by the industrial goods, which went down by 3.36 percent, while the banking sector depreciated by 2.99 percent. On the other hand, the insurance and consumer goods sectors appreciated by 4.71 percent and 0.08 percent respectively. Market breadth closed negative, with 41 losers and 25 gainers, led by Diamond Bank (-31.58%) and Continental Reinsurance (+33.33%), respectively.