By Dirisu Yakubu
ABUJA – With less than three months to the 2019 general elections, prominent Nigerians including former Vice President and Presidential candidate of the Peoples Democratic Party, PDP, Alhaji Atiku Abubakar Suday faulted President Muhammadu Buhari's refusal to sign amendment to the Electoral Act, saying the development raises doubt about his pledge to conduct credible elections.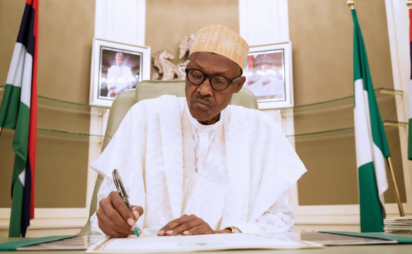 The PDP candidate in a chat with Vanguard on Sunday said having committed himself to transparent polls; it was surprising that the first citizen would fail to take advantage of the instrument that will further enhance the credibility of the electoral process.
Speaking through his media aide, Paul Ibe, Atiku described President Buhari's decline of assent to the amendment for the fourth time as a "missed opportunity."
He said, "President Muhammadu Buhari promised to conduct free, fair, transparent and credible elections. He made this commitment to the European Union, the British Prime Minister, Theresa May, other international stakeholders as well as to millions of Nigerians.
"We believe that if the elections are to be credible, the process and the rules of engagement must be refined.
"President Buhari's refusal to sign the amendment is a missed opportunity and that raises serious doubt about his commitment to credible elections."
On his part, former Minister of Education and National Vice Chairman (South-West) of the Social Democratic Party, SDP, Professor Tunde Adeniran called on federal lawmakers to veto Mr. President's action adding he would have his way if the lawmakers failed to garner sufficient numbers to nullify his (Buhari's) action.
"He would have his way (refusal to sign Electoral Amendment bill into law) if the Senate is unable to raise sufficient numbers to overrule him. And once he succeeds in his self-seeking and self -serving position, the 2019 elections would be in jeopardy," Adeniran stated.
For Mike Ozekhome, Constitutional lawyer and Senior Advocate of Nigeria, SAN, President Buhari is afraid of imminent defeat at the polls, noting that all he is out to achieve by failing to put pen to paper is to provide a suitable environment to enhance electoral manipulation to pave way for his re-election.
He said, "Buhari is obviously afraid not just of defeat, but of routing in the next presidential election. His refusal is an unveiled and desperate attempt to foist on Nigerians,the grand electoral fraud and larceny of bazaar votes we witnessed in the North West,especially in Kano in 2015.
"Recall that the then Kano Independent National Electoral Commission, INEC, Returning Officer was burnt to death with his entire family as soon as the results were announced. Till date, no arrest has ever been made of the culprits who annihilated an entire family just so that a person will have power.
https://www.vanguardngr.com/2018/10/breaking-senate-passes-electoral-act-amendment-bill/
"That desperation has been lampooned again and again by Aisha, his very wife. The amendments were aimed at sanitizing and deodorizing the electoral process, enthrone integrity in it,transmit results automatically from the polling units to the announcement centres after parties representatives have signed and endorsed. This prevents rigging, especially after-count rigging, when declared results are brazenly altered.
"How can any genuine democrat ever be against such auspicious amendments, if not for sinister purposes? All hope is not lost. The simple answer is for both Houses of parliament, the National Assembly to muster 2/3 majority votes to override the President under section 58 of the 1999 Constitution."
The refusal of President Buhari to sign the Electoral Act Amendment Bill has attracted a lot of criticisms from many quarters, including the Peoples Democratic Party, PDP, the Coalition of United Political Parties, CUPP amongst others.
https://www.vanguardngr.com/2018/12/the-buhari-osinbajo-chemistry-and-the-opposition-scorn/