*Tinubu, Ooni, Afenifere also pay tributes
*How he died of diabetes – Spokesman
By Dapo Akinrefon, Abdulwahab Abdulah, Johnbosco Agbakwuru and Gbenga Olarinoye
The founder of the Oodua Peoples Congress, OPC, Dr. Frederick Fasehun, yesterday, died at the age of 83.
Fasehun passed on at the Lagos State University Teaching Hospital  (LASUTH), Ikeja.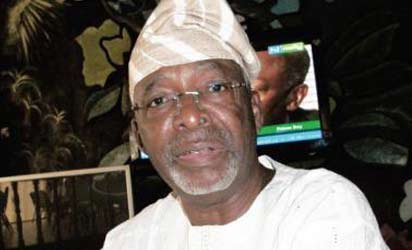 The octogenarian, it was learned, was admitted at the Intensive Care Unit of the hospital on Tuesday, where he remained until his demise.
Confirming the death, Fasehun's spokesman, Adeoye Jolaosho, said:  "It is true, Baba died this morning at the ICU of  LASUTH, Ikeja."
Sunday Vanguard gathered that Fasehun died of diabetes, a disease he was said to have been nursing for some time. A source close the late OPC founder said  he had been receiving insulin treatment for several months, saying the development made him to withdraw from the public.
Fasehun was born in Ondo Town, Ondo State in 1935.
Sanwo-Olu commiserates with Fasehun's family over OPC founder's death
He studied science at Blackburn College and furthered his education at  Aberdeen University  College of Medicine. He also studied at the  Liverpool  Postgraduate School after which he had a Fellowship at the  Royal College of Surgeons. In 1976, he studied acupuncture in  China  under a joint World Health Organization  (WHO) and United Nations  Development Scholarship Programme.
In 1977, he set up an Acupuncture Unit at the  Lagos University Teaching Hospital,   LUTH.
He  resigned in 1978 and immediately set up the Besthope Hospital and Acupuncture Centre in Lagos. The Acupuncture Centre once earned a reputation as Africa's first for the Chinese medical practice.
Tributes flowed as the news of Fasehun spread yesterday
President Muhammadu Buhari commiserated with the Yoruba nation,  the family of the medical practitioner and the government and people of Ondo State.
Buhari, in a statement, recalled the prominent role Fasehun played as a member of the defunct National Democratic Coalition (NADECO) which campaigned against military rule in the country.
He was a good governance activist – Tinubu
The All Progressives Congress (APC)  National Leader, Asiwaju Bola Tinubu, described Fasehun as a renowned pro-democracy and good governance activist, committed democrat, tested political player and Yoruba nationalist who left behind fine legacies.
He charged the Fasehun  family  and other associates of the late leader  not to allow his fine legacies to die.
President Buhari mourns OPC founder, Fasehun
In a statement signed by Tunde Rahman on behalf of Tinubu's Media Officer, the APC leader said: "Dr. Fredrick  Fasehun  was  a renowned pro-democracy and good governance activist, committed democrat, tested political player and Yoruba nationalist. I say all of that because I knew him well. We related very closely.
"He was known for  his Yoruba nationalistic fervor.  Like an  Afenifere  chieftain that he was, he  fought  stridently  for the Yoruba cause.  He canvassed true federalism and political restructuring.  He fought  as well  for the cause of the Nigerian nation.
"The good thing about Baba is there was never a time that he sat on the fence.  Although trained as a medical doctor, he was very active politically. We were together in the forefront of the agitation for the de-annulment of June 12. He founded the Oodua Peoples Congress to actualize June 12 but respoused non-violence".
A  former Deputy National Chairman of the Peoples Democratic Party, PDP, Chief Olabode George, said  Fasehun was a committed and detribalized Nigerian.
In a telephone reaction to the death, George said he was when he heard of the OPC president's death, saying it is a big loss to Nigeria, especially to Yoruba race.
George, who is also the Atona of Oodua, said, "Fasehun is a committed Nigerian who has promoted his people not to the detriment of others, but strived that every tribe must be recognised and developed. And that was what he fought for all his life.
The Ooni of Ife, Oba Adeyeye Enitan Ogunwusi, Ojaja II, said Fasehun's death was a  rude shock, saying his death was a big loss to Ondo Kingdom, Ondo State, Yoruba race and Nigeria.
Ogunwusi expressed his commiseration through a press statement by Comrade Moses Olafare, Director of Public Affairs at Ooni's Palace.
"The Arole Oduduwa, while performing his duty as the Chancellor at the ongoing 48th Convocation Ceremony of the University of Nigeria, Nsukka received  the news of the passage of  leader of OPC, Dr Frederick Faseun, with a rude shock", the statement said.
"The Royal Court of Ife will never forget Dr Fasheun for his incorruptible loyalty to the sacred throne of Oduduwa. The good people of Ile-Ife, which is the ancestral home of the Yoruba, will miss him for the love and respect he ceaselessly showed to us. Yoruba people all over the world will miss him for his committed struggle for the socio-political/economic survival of the race and Nigerians will miss him for his fights for fairless and justice as a Nigerian human right activist".
Breaking: Frederick Fasehun OPC founder dies
He was a father – Gani Adams
THE Aare Onakakanfo of Yorubaland, Aare Gani Adams, described the death as a great loss to the Yoruba race.
In a statement, Aare Adams, said Fasehun left behind a worthy legacy.
He said: "It was with shock that I received the sad news of the passing of our Papa and founding father of Oodua Peoples Congress, OPC, which occurred today, December 1, 2018. This, no doubt, is a moment of great grief for entire family of OPC, Yoruba nation, Nigeria and the world at large".
Describing the late Fasehun as a father, Adams said: "I passed through him for a period of five years."
His death a rude shock – Afenifere
Afenifere's National Publicity Secretary, Mr. Yinka Odumakin, described Fasehun as  "a dogged fighter who played pivotal role particularly in the resistance to the annulment of June 12 election and generally in all struggles for emancipation   in his lifetime."
Odumakin added: "Fasehun's death at this crucial time in the life of our country is a big blow to the struggle he devoted most of his adult life to.
"As we cannot question God for taking him when it pleased him,we pray that his soul will find a comforting testing place ."We console his immediate family,his fraternal family in OPC and the Yoruba Nation in general on the death of this great soul.
"It shall be well with all that he left behind.".
Describing Fasehun as a historical figure and a foremost father of the country's Fourth Republic democracy, Mr Jimi Agbaje, the People's Democratic Party (PDP) governorship candidate for Lagos State, said his transition at this time in the country's political history was personally painful to him.
"Not only was Baba an icon of Nigeria's democratic struggle," the PDP candidate said. "To me, he stood as a father figure with whom I enjoyed a personal relationship."
Agbaje spoke in a statement by Felix Oboagwina, the Director of Media and Publicity, Jimi Agbaje Campaign Organisation.
President Buhari mourns OPC founder, Fasehun
In his reaction, High Chief Owolabi Salis, Lagos State governorship candidate of Alliance for Democracy, AD, said although it is a sad day for the people, nobody could deny the fact that Fasehun  contributed his quota to the development and leadership of the Yoruba race.
Speaking to newsmen, yesterday, at Akinde, Ifako-Ijaye Local Government Area of the state during the graduation of 1,000 persons from his free Lagos Youth Skills Acquisition programme, Salis said: "It is sad. A great loss. I was to see him yesterday (Friday), but traffic gridlock frustrated the meeting. He will be remembered for good deeds and that should be the goal of everyone because life is a circle. May his soul rest in peace."