By Dirisu Yakubu
ABA—Presidential candidate of the Peoples Democratic Party, PDP,  in the 2019 elections, Alhaji Atiku Abubakar has again taken a swipe at President Muhammadu Buhari and All Progressives Congress, APC, saying they lack the skill to manage the nation's economy.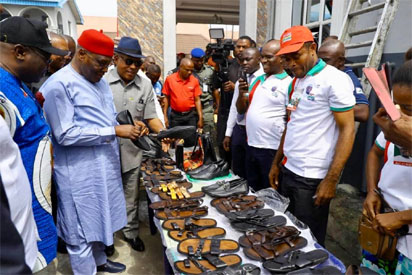 Atiku group says PDP candidate'll defeat hunger
Atiku who stated this yesterday at a townhall meeting and interactive session with South-East business community in Aba, Abia state, also accused the government of President Buhari of destroying the foundation laid by the PDP in its 16 years in office in the area of business facilitation and promotion.
Accompanied by his wife,  Jennifer and a host of party bigwigs,  the PDP flag bearer promised to harness the creative energies of the business community in the South-East to facilitate job creation if voted into office.
He said: "This government doesn't have the capacity, the will to do it (create jobs). We initiated the Ease of Doing Business Policy in Nigeria, but this government came and completely destroyed it. We made it possible for business to be incorporated in 24 hours. We want to do it again and make it possible to register business on your own computers.
"I will do whatever I can to promote business as long as it is within the confines of our laws. I will do this not because I am a businessman but I want to see prosperity in our country.
"I know and feel your pain because I'm also one of you but we have to work together to remove those challenges, those pains of doing business."
Subscribe for latest Videos