By Johnbosco Agbakwuru,
ABUJA – WIFE of the President, Dr. Aisha Buhari, Wedneday lamented that two powerful personalities have constituted themselves as a cog in the wheel of speedy development of the country
Buhari, who spoke at a conference organized by Project 4+4 in Abuja, however, did not mention the names of the powerful persons.
The event was also attended by the wife of the Vice President Dolapo Osinbajo.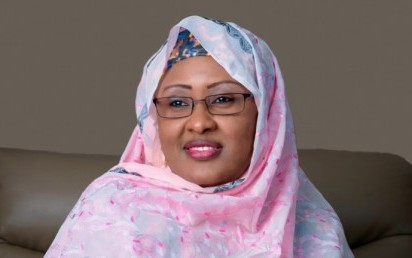 The First Lady explained that the government had achieved a lot but could have achieved more or even achieved all it had in one year but for two people in government who will never allow things to move fast.
The President's wife said that she was disappointed in men who rather than fight these two men will go to them in the night begging for favour.
Accoding to persecondnews.com Mrs. Buhari, who urged Nigerian women to rise and fight, said: "I have realized that Senator Babafemi Ojodu, Special Adviser, political, to the President, and Dr. Hajo Sani, and wife of the Vice-President, Mrs Osinbajo, are not comfortable with my saying this and want me to confine myself to my prepared speech but we must say the truth."
The President's wife insisted that the powerful duo were retrogressive elements preventing the government from moving forward.
https://www.vanguardngr.com/2018/12/apc-reconciles-aggrieved-factions-in-kwara-2/
The First Lady, known for her frank talk when it comes to issues concerning her husband's administration, had in October 2016, told the BBC in an interview, that her husband was being held hostage by a cabal.
"The president does not know 45 out of 50, for example, of the people he appointed and I don't know them either, despite being his wife of 27 years.
"Some people are sitting down in their homes folding their arms only for them to be called to come and head an agency or a ministerial position," she had said.
The First Lady had also threatened not to vote for Buhari, saying "he is yet to tell me, but I have decided as his wife, that if things continue like this up to 2019, I will not go out and campaign again and ask any woman to vote like I did before. I will never do it again".
Also, Mrs. Buhari, on Monday, October 9, 2017, condemned the management of Aso Rock clinic, adding that the health center didn't have the facilities to treat patients.
According to her, she had to visit a private clinic after she found out the Aso Rock clinic's X-Ray machine was not working.
In her outburst on the APC primaries, she said: "It is disheartening to note that some aspirants used their hard
earned money to purchase nomination forms, got screened, cleared and campaigned vigorously yet found their
names omitted on Election Day, these forms were bought at exorbitant prices.
https://www.vanguardngr.com/2018/12/irregular-migration-edo-govt-eu-say-coordination-matrix-a-step-in-right-direction/
"Many others contested and yet had their result delayed. Fully knowing that AUTOMATIC tickets have been given to other people.
"All Progressives Congress being a party which cardinal principle is change and headed by a comrade/ activist whose main concern is for the common man, yet, such impunity could take place under its watch.
Meanwhile, Mrs Aisha Buhari had earlier appealed to women to ensure the return of the, All Progressives Congress, APC, administration in 2019.
She observed that during the last election, women participated fully in the voting process and ensured that APC was elected.
According to her, that is why the government of President Buhari came up with social investment programmes targeted at them and their children in order to engage them and reduce the level of poverty among them.
The First Lady in a statement by her Director of Information, Suleiman Haruna called on them to spread the good news of the accomplishments of this administration.
She said women had been at the receiving end of the struggles of men, especially soldiers who had been fighting insurgency and called on government to ensure speedy release of their entitlements, so their families do not suffer.
She commended the political group for organizing the Summit and setting the tone for other Buhari support groups as 2019 election campaign period opens.
Wife of the Vice President, Mrs. Dolapo Osinbajo, speaking at the event, commended women for providing a permanent support base for the APC and said they remain ambassadors of the party wherever they find themselves.
She called on them to continue to support the party, saying continuation of the party in 2019 meant a better Nigeria for them and their children.
https://www.vanguardngr.com/2018/12/pdp-chieftain-in-adamawatahir-defects-to-apc/