OSA MBONU, Arts Editor of Vanguard, tracked Agota Horvath at the recent International Arts & Crafts Expo organised in Abuja by the National Council for Arts & Culture. She was interviewed as the Commercial Counselor in Lagos, Embassy of Hungary. It was in the process of the interview we found that Agota is a visual artist!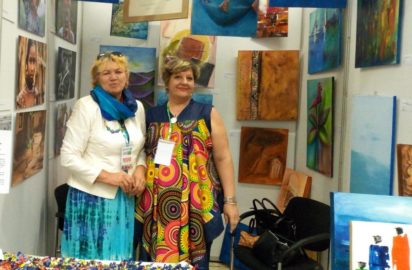 What is the role of arts and crafts in Hungary's economy?
Arts and crafts are very traditional things in Hungary. We have Hungary's cultural products such as clothes, ceramics, and other kinds of crafts. We have very beautiful national galleries. Art education is prominent, not at the tertiary level, but at the primary and secondary levels. And in vocation education, we have art programs like graphics, textile designs, and other kinds of designs.
READ ALSO: Nigeria has a very rich past… – Onu
Budapest University of Technology runs a program in industrial design. It means that designing is very important in our lives.
Both traditional and modern arts are very popular in Hungary. We have a lot of modern art galleries in bigger cities of the country. And maybe, every three months, they organise art auctions. This is necessary because it gives an idea of the price and of how valuable the artworks are. Exhibitions and auctions are two very important aspects of the arts and crafts industry in Hungary.
When it comes to science and technology, I know that Hungary is advanced. But right now I am struggling to remember anything I bought that was made in Hungary.
Let me start from the talents of Hungarian scientists. Many inventors are Hungarians. For instance, this thing, Biro (ballpoint pen used in writing) is named after László József Bíró (1899–1985), a Hungarian inventor of the ballpoint pen.
Another one is Albert Szent-Györgyi von Nagyrápolt (1893-1986), a Hungarian biochemist who won the Nobel Prize in Physiology in 1937. He is credited with first isolating Vitamin C and discovering the components and reactions of the citric acid cycle. János von Neumann, another Hungarian, was the conceptual inventor of digital computing. I can go on and on.
Are these images here from Hungary?
No. The photographs are the works of Irene Becker, (member of Association of Hungarian Journalists), a freelance travel and editorial photographer. She took some of the pictures in Kaduna, where she is presently.
What about the paintings; are they works of Hungarian artists?
No. They are my works. I painted them.
So you are an artist; a visual artist?
Yes. I am also a sculptor. I started to paint about 10 years ago. I am an economist basically. Whenever I have time in Lagos where I live, I make my pictures.