By Luminous Jannamike
ABUJA – Wife of the President, Aisha Buhari, on Friday, told the Minister of Health, Prof. Isaac Adewole, to create a platform for mobilizing funds for taking care of sick Nigerians especially those suffering from HIV, saying nobody should be on national television begging money for treatment.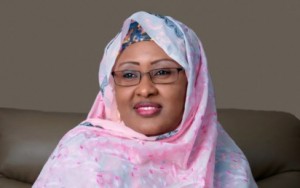 Physically challenged to immortalise Achebe
She said this in Abuja at the launch of 'Nigeria Free to Shine' Campaign targeted at eliminating mother-to-child transmission of the HIV virus in the country.
A member of the Association of People living with HIV AIDS in Nigeria (ASWHAN), Mrs Florence Onu, had earlier shared with the gathering, her experience in soliciting for money on national television to treat complications arising from her HIV predicament.
In her reaction, Mrs. Buhari maintained that it was an aberration for the sick to solicit for money for treatment on the media, saying Nigeria as a country has enough resources to make every citizen live comfortably, if judiciously utilized in the pursuit of the well-being of all.
She said: "I will like to call the attention of the Minister of Health based on (the story of) the lady (Mrs Onu) that has just spoken about the challenges that they are facing as people living with HIV and AIDS. I think she doesn't need to be on the national television to get help in solving her health challenges.
"Based on the number of government agencies we have dealing with HIV/AIDS, maternal health and sexually transmitted diseases issues in Nigeria, I think and hope and seek the attention of the Minister of Health to create a platform that will mobilize funds from these agencies and parastatals such as the Central Bank and NNPC to make sure that the funds are utilized in taking care of the sick.
"We don't need foreign investors getting involved. I believe that we have the resources. If they can be utilized judiciously, we will all feel comfortable living in Nigeria."
Mrs Buhari, while restating her commitment to the on-going efforts at eliminating mother-to-child transmission of HIV in the country, said her vision for the campaign is to end childhood AIDS in Nigeria and keep HIV positive mothers alive.
"This vision will be achieved through several programmes that will increase the number of pregnant HIV positive women identified and placed under treatment for their health as well as prevent the transmission of HIV to their babies," she stated.
The President's wife further called on the spouses of the 36 governors in the country to implement the 'Free to Shine' campaign in their various states to drive the initiative down to the grassroots.
In his remarks, Adewole said the time to swing to action is now. He noted that the cost of investing in women and children may be high but the cost of not investing in them may be unbearable for the nation in the long run.
He said: "I encourage all stakeholders including our esteemed development partners to play their part as we embark on this worthy cause for the well-being of our pregnant women and children."
Speaking also, the Director-General of the National Agency for the Control of AIDS (NACA), Dr. Sani Aliyu, said Nigeria's HIV indices has continued to improve over the last five years but at a slow pace.
He however stressed that the goal to end mother-to-child transmission of HIV is attainable, adding that countries such as Thailand, Belarus, and Armenia have achieved it.
"In Africa, the rate of mother-to-child transmission of HIV has been reduced o less than five per cent in several countries like Ethiopia, South Africa and Tanzania.
"Nigeria can replicate this. I strongly believe that our mutual goal of keeping all mothers healthy and offering children a HIV free start is achievable with collective effort of every stakeholder across all sectors," Dr. Aliyu stressed.
Subscribe for latest Videos