By Ben Agande
Kaduna—GOVERNOR Nasir el-Rufai of Kaduna State has said the 2019 general election is a contest between thieves and honest people, adding that the people of the state cannot afford to bring back looters into office.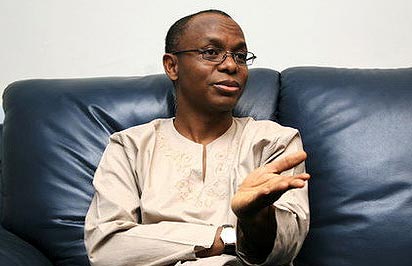 Speaking at the inauguration of Campaign Council of All Progressives Congress, APC, he said Peoples Democratic Party, PDP, had nothing to offer as its "ideology is nothing but looting."
He accused the PDP of renting crowd from Niger Republic to shore up its crowd in Sokoto during the flag off of its presidential election on Monday.
According to him, "the 2019 general election is a poll between trustworthy people and thieves, between patriotic leaders and those who went to Abuja to loot our treasury.
"So we have to stand up and show them that Kaduna is not a state that will allow them cheat the people and the masses.
"What we have done in Kaduna State in the last three years has shown that APC, as a party, is the one that loves the masses and assists the masses, not a party that will take public funds and share among the rich. That is why we want you people to go out and tell the people to vote President Muhammadu Buhari again.
"Thieves have ganged-up against President Buhari. Yesterday (Monday) they were in Sokoto, and they rented a crowd from Niger Republic, because Sokoto people refused to come out."
Members of the campaign council include Minister of Finance, Zainab Ahmed; NPA MD, Hadiza Bala-Usman; Deputy Governor, Barnabas Bala; deputy governorship candidate, Hadiza Balarabe; senatorial candidates, Uba Sani, Suleiman Kwari and Jimi Lawal; APC Chairman, Emmanuel Jekada and Alhaji Gana, among others.