By Omeiza Ajayi
ABUJA – The ruling All Progressives Congress APC has berated the Peoples Democratic Party PDP for demanding the resignation of the Inspector General of Police, IGP Ibrahim Idris and Chairman, Independent National Electoral Commission INEC, Prof. Mahmood Yakubu ahead of the next general elections.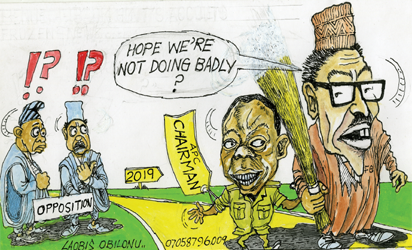 The APC in a statement on Sunday said it was 'amused by the latest utterances of the Chairman, Peoples Democratic Party (PDP), Uche Secondus calling on both the Chairman of the Independent National Electoral Commission (INEC), Prof. Yakubu Mahmoud and the Inspector General of Police, Mr. Idris Ibrahim to resign on account of the PDP's baseless suspicions ahead of the 2019 General Elections".
Describing the call as suspicious and a red flag, the APC added; "It is a pity that the once boisterous PDP, having undermined the country for 16 years through mindless undemocratic actions, has now become a caricature of a political party.
"This latest outburst is yet another reminder of how the PDP government serially abused state institutions in the pursuit of selfish political and economic interests. PDP is now being haunted by its sordid past and the ruinous party is now scampering from its own shadow.
"It is sad that the PDP hounds have continued to take Nigerians for granted, thinking by embarking on scaremongering, the voters could forget their wanton crimes.
'Nigerians are not gullible, it is now apparent that the PDP in a bid to hide their inadequacies and undesirability as elections approaches has chosen to populate the public space with unfounded allegations.
"The All Progressives Congress (APC) continues to stand for and would defend a participatory democracy where elections are transparent, credible, free and fair. We also call on relevant agencies to monitor the PDP as its recent utterances are a red flag. We must prevent a reoccurrence of the PDP's typical undemocratic practices during elections. Never again will a selfish few distort the wishes of the electorate", it added.
https://www.vanguardngr.com/2018/11/metele-attack-pdp-atiku-dancing-on-the-graves-of-nigerian-soldiers-says-apc/