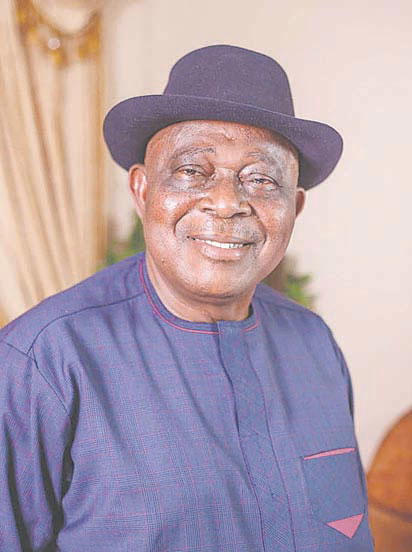 •Patrick Osakwe
•Urhobo guaranteed of power in 2023 if Anioma gets second term
•Why Clark's position on Gov Okowa is incontrovertible
•Speaks on Flash Flamingoes FC
By Emma Amaeze
THREE-TIME  Senator,  Chief Patrick Osakwe, has said that at the appropriate time, the Peoples Democratic Party, PDP, in Delta State, will inform the National Chairman of All Progressives Congress, APC, Comrade Adams Oshiomhole, who boasted some months ago   that his party would take over the state in 2019, that the oil-rich state belongs to it (PDP).
Senator, who spoke to Saturday Vanguard in an interview, asserted that with Delta state governor, Senator Ifeanyi Okowa, from North senatorial district (Anioma),   as PDP gubernatorial standard-bearer for the 2019 general election,  the Central district (Urhobo) is sure of regaining power in 2023 once it supports Anioma's second term bid under the power rotation arrangement Urhobo themselves   kick started in the new political dispensation.
Lawyers in Imo boycott court sittings, protest alleged assassination of magistrate
He affirmed that he is on the same page with the former Federal Commissioner for Information, Senator Edwin Clark, who recently declared that Anioma should rule for eight years like Central and South senatorial districts had already done in the spirit of fairness and equity.
Why I 'm not troubled by APC
On Oshiomhole's take over bid , he said, "I am not bothered about Oshiomhole and APC outburst; it is Oshiomhole that should be bothered about his statement. He is the national chairman of APC; I think he has to talk for people to know that he is working."
Senator Osakwe vehemently disagrees that what happened in Ekiti and Osun governorship elections will happen in Delta, saying, "There are different ball games, those are very small states, you cannot use them to compare Delta state, our state is a miniature Nigeria. You can do something in Ekiti and get away; you cannot do it Delta and find it easy."
His words: "Well, Comrade Oshiomhole is the national chairman of APC, whatever he said, he has his plans, he is a friend, I will not want to castigate him, but the PDP in Delta is there to tell him that he and his party cannot take over Delta because it is a PDP state."
2019: Macaulay accuses national stakeholders of encouraging one party system
On the APC alleged plan to capture additional three states of the South-South in the 2019 election, Osakwe said, "Any political party going into an election without a plan is not a party, but such a plan in the South-South is just like a dream. We will watch and see how they are going to actualize it because it is not like a man fighting a woman. At the end of the day, we will know who the boy is and who the man is."
Best thing that will happen to Delta
Osakwe , however, noted that despite the power rotation arrangement in the state, the opposition has always had their candidate from Central district, adding: "We are used to it, but I think Governor Okowa's emergence has put that to rest, that he will do his second tenure and it will rotate to Central in 2023."
He said: "The best thing to happen to Delta state is to allow rotation of power to continue among the three senatorial districts. It started from Central to South to North, and after that, it will be back to Central and the whole state will concentrate in picking a candidate from Central, irrespective of the party."
He asserted that those, who do not want Anioma to continue in 2019, do not attach importance to the unity and progress of the oil-rich state, adding, "And the best Anioma candidate to realize this dream is the incumbent Governor Okowa. PDP made the right choice by nominating him as its gubernatorial flag bearer."
"This will enable him continue the good work he has started. I urge Deltans to vote him, besides that he is an incumbent, he knows the state in and out and he rose through the rank. He knows what it takes to win; he has a lot to show.
Time to see the real Okowa
"Indeed, PDP candidate in Delta is a good candidate. All the debts he met, including local government debt, he has paid, so there is no reason for anybody to grumble. In the spirit of equity, the North senatorial district in the state should retain the governorship until 2023, anybody, who stands against this, is not thinking of the unity of Delta state," he declared.
How Okorocha, Amosun lost Buhari's support
He, however, said: "I am not saying Okowa should be returned for second term just because he is from North district, no, what you have to look at    is his performance, what he met on ground when he assumed office and how he has administered the state since then. He inherited huge debts and has been managing to pay; most of them deducted at source before the money comes to the state."
"It is not easy; it takes dexterity and expertise to do that. Since he has now managed to clear almost all the debts, I think we will see the true Governor Okowa.    because I know he knows what he is doing. I have no doubt in my mind that he will take us to a greater level. Like I said, not because he comes from Delta North, but his capacity is extraordinary.
"There is peace in the state, there is peace in the local government, see the way he handled the flood problem in the state, we should all support him, that is what I am saying," he asserted.
Despite moving to APC, Uduaghan remains our brother
On the exit of former governor of the state, Dr. Emmanuel Uduaghan, from PDP, he said, "Yes, I told Saturday Vanguard last time that the decision of the former governor, Dr. Emmanuel Uduaghan not to leave the party was the best thing that gladdened me ahead my birthday."
"That was the position at the time, he even attended my birthday and I repeated what I told Saturday Vanguard, he was there at my country home, but things changed and he changed his mind. We were all personally involved in persuading him though he later left PDP, he is still our brother, we should respect his opinion, that is not to say he hates us or we hate him," he stated.
Detractors should give Nwaoboshi peaceful atmosphere to work
On the incumbent Senator representing Delta North senatorial district, Chief Peter Nwaoboshi, he said, "I am satisfied with what Senator Peter Nwaoboshi is doing, but they are not giving him rest. They are just pursuing him here and there, giving him little or no time to concentrate on the development of not just his senatorial district and the state, but also the host states of Niger Delta Development Commission."
Yet to recuperate from Anenih exit
The politician, who described Chief Tony Anenih as his political mentor is one of those devastated by his demise. He told Saturday Vanguard in Benin City, "Yes, he (Anenih) was my political mentor. He introduced me into politics and I am yet to recover from his exit. He actually saw me all through politics. He is gone now; we are just planning the burial. This loss will be very difficult to fill because he was everything to me.    He was a father, mentor, everything I needed in politics, and he was there for me. His death was a Tsunami to me."
N1.3b: EFCC charges Fayose, coy for money laundering
APC has failed
Senator Osakwe does not believe that APC should be given another chance at the federal level, saying: "The hallmark of any election is for it to be free, fair and credible. The moment you have a free and fair election, I have no doubt that Alhaji Atiku Abubakar will deliver victory to PDP. You see, like I said earlier, you have to tell people what you have done to warrant them voting you a second tenure. If you look at what is happening in the country, even in APC itself, the APC is not even at peace with itself as we speak. Clearly, PDP is better poised to give the nation better governance now."
OBJ approval of Atiku is a big boost
In his opinion, "The endorsement of PDP presidential candidate, Alhaji Abubakar by former President Olusegun Obasanjo is a big boost for PDP. However, the real job is for the people to use their PVC to prove that his endorsement of Atiku Abubakar is their wish. Obasanjo is somebody who speaks the truth fearlessly and PDP has to prove him right."
Flash Flamingoes still exists in my memory
At the Best Western Hotel, Benin City, a preeminent hospitality industry in Edo state, owned by him, one of the imposing buildings bears the name Flamingoes, obviously in reminiscence of Flash Flamingoes FC he founded in the 1980s. The team formerly Rubber Board when he acquired it broke into the Premier League then, but he subsequently sold the club to the defunct Bendel state government, which renamed it Bendel United.
The ex-football club proprietor was not enthusiastic to speak about Flash Flamingoes when Saturday Vanguard sought to know the memories the club still evokes in him. He simply said, "Well, when I left the club, I did not want to get involved again, I took it as one of my experiences of life. When I handed over Flash Flamingoes, I did not want to get involved any longer, so I do not know what the position is today. All I know is that when I was there, the club was doing very well."
Outrage over killing of a 12-year-old in Delta Community
Asked the reason 'Flamingoes' is etched in one of the buildings in the hotel, he said, "That is what I am saying, when you see Flamingoes there, you know that it existed, not that it is still existing."
Does he plan to buy a football club again, Senator Osakwe, who came into public eye in Benin City with his famous Flash Pools said, "I have no plan to buy any football club now." On what inspired him then to buy Rubber Board FC, which he renamed Flash Flamingoes,    he responded, "One was younger, aspiring in different directions and being a football fan, I just decided to own a football club and when I got tired, I had to put the load down. That was exactly what happened."