…Ibori is vice chair, Funkekeme, D-G
…As Okowa sues for issue-based campaign
By Festus Ahon
ASABA—AHEAD of the 2019 general election, Delta State chapter of the Peoples Democratic Party, PDP, yesterday,  inaugurated its campaign council with Prof. Sam Oyovbaire as Chairman, Chief James Ibori, vice chairman and Chief Solomon Funkekeme, Director-General.
2019 polls, a contest between thieves, honest people— el-Rufai
Speaking during the inauguration of the campaign council, Governor Ifeanyi Okowa charged members of the PDP to run issue-based campaign.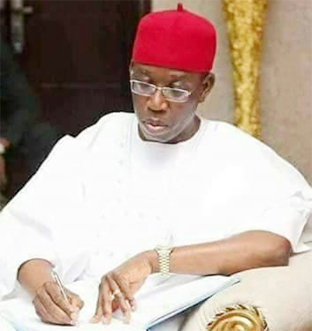 Expressing confidence that the PDP has successfully executed projects that would earn it victory in the 2019 general election, Okowa said: "First, I want to thank the party for putting up this campaign council and other bodies that had been set up for the purpose of the campaign for the PDP in Delta State.
"As we go into the campaign, it should be issue-based,  we are confident that there is a lot of achievements for us to campaign with which will earn us victory.
Breaking: Mbaka fingers church on his alleged assassination
"Other persons may go out there to insult people and say what they do not know, don't respond to such persons, tell the story of where we have been, where we are today and what we will do because, we have a lot of projects that if you are looking at projects to commission, we have a lot; we have commissioned several projects and there is a lot more to be commissioned."
Chairman of the PDP in the state,  Mr Kingsley Esiso, while inaugurating the campaign council, said: "We want grassroots based campaign, campaign at the unit levels, we must tell our people what Governor Okowa has done in the last three years and that Deltans believe in zoning; Delta State has turn by turn zoning, the people have accepted the principles of zoning.
Chairman of the campaign council,  Prof. Oyovbaire who spoke on behalf of members of the council thanked the leadership of the PDP  for choosing them to drive the campaign process.