Abuja – Coach Oluwatoyin Ojo, the Ondo State judo coach, on Sunday at the 19th National Sports Festival (NSF) in Abuja said he was confident that Adijat Azeez was heading towards greater heights.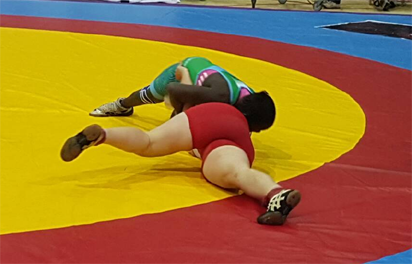 Azeez emerged the new women's judo 70kg champion at the ongoing NSF by winning the gold medal.
Blessing Obaraye of Edo won the silver medal, while Esther Augustine also of Edo and Akuki Joseph of Nasarawa State both won the bronze medals.
Ojo later said he was pleased with Azeez's outstanding performance, as she was a promising athlete.
"I am very happy with her performance. Her first exposure was at the African Youth Games`(AYG) in Algeria in July, where she won a silver medal.
"I thank God that constant training and hard work have made her win the gold medal here today. She is now the champion in the 70kg category and she is just 16 years.
"With this performance, I know she will still fly the country's flag in international competitions," he said.
Ojo, who said his motto was discipline, dedication and determination (3Ds), said it was pleasing that Azeez observed all of these "three Ds''.
"This has put her ahead of others,'' he added.
Meanwhile, in the male 90kg category of the judo competition, Inusa Ibrahim of Kano State won the gold medal while Ibrahim Abdullah won the silver medal.
Frank Micah of Bayelsa and Titus Samaila of Delta both won the bronze medals.
https://www.vanguardngr.com/2018/10/oando-grows-profit-after-tax-by-46-in-q3/
In the cycling event, Azeez Mutiu of Delta won the gold medal in the 148.4km male race by finishing in three hours 50 minutes and 35.5 seconds.
Sadak Quadri Shiva won the silver medal after finishing at 3 hours 50.47 seconds, while Caleb Kalizibe won bronze with 3 hours 50 minutes 59.01 seconds.
In the taekwondo event, Abdulhafeez Salawudeen of Kebbi won the gold in the male individual event while Tosin Amusan won the silver and AbdulRaqueeb Arowora won the bronze medal.(NAN)
Subscribe for latest Videos