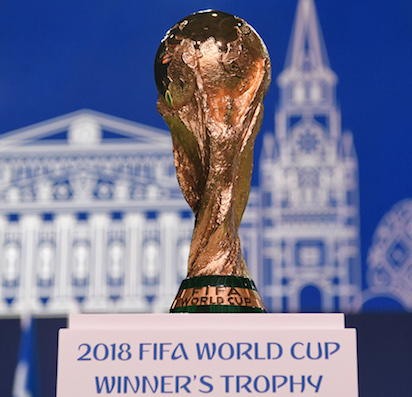 The World Cup winner's trophy is seen during the 68th FIFA Congress at the Expocentre in Moscow on June 13, 2018. / AFP PHOTO
Former Springbok hooker and Super Rugby coach Naka Drotske was in a "stable" condition in hospital Friday after being shot during an armed robbery outside Pretoria.
The 47-year-old, a member of the 1995 World Cup winning squad, was at his brother's property when three men broke into the house on Thursday evening, police told local media.
"From what we hear Naka is in a stable condition and the medical staff believe he is going to be okay," Free State Cheetahs official Harold Verster told AFP.
Drotske played for and coached the Cheetahs, one of the five major South African provincial rugby teams, who are based in central city Bloemfontein.
Drotske was having a barbeque with his brother Tinus and his family as well as another former Springbok, the legendary prop Os du Randt, when the attackers broke in.
"They all had weapons and were pointing the guns and shouting. One was spraying tear gas," Tinus Drotske told news24.
"My brother Naka got up and actually rugby-tackled them out of the house and on to the veranda. The next moment we just heard these shots being fired and Os got up and also went outside and then they ran away.
"My brother came back into the house, we locked up and that's when we realised he had been shot."
Drotske suffered severe blood loss after being shot three times. No one else was injured.
"There was a struggle whereby one of the men was shot at," police spokesman Kay Makhubele said.
He underwent surgery at Netcare Montana hospital in Pretoria and will require another operation on an arm.
Police, who combed the property Friday seeking forensic evidence, said two men were being questioned in connection with the incident, but had not been arrested.
— World Cup winner —
Drotske made his debut for Free State in 1993 and forced his way into the South Africa squad for the 1995 World Cup. He was an unused replacement in the final when South Africa — cheered on by Nelson Mandela — beat New Zealand.
"We wish (Naka) him a speedy recovery," South African Rugby said on its Twitter feed.
English club London Irish, for whom Drotske played for two years, tweeted its horror at his predicament.
"Our thoughts are with former London Irish player Naka Drotske after this shocking news, we wish him a speedy recovery," tweeted the club.
Drotske won 26 caps for South Africa, scoring three tries.
He was first choice hooker in the 1999 World Cup when the Springboks reached the semi-finals, playing in five of their matches, losing to eventual winners Australia.
He later coached the Cheetahs before pursuing a business career.