By Japhet Alakam
For Ibrahim Afegbua, it was a testimony of the giant strides of LIMCAF and how it has transformed the life of many youths since its inception in 2007. Ibrahim Afegbua is a  professional sculptor artist based Lagos. The Okpella, Edo state born artist who graduated from Auchi Polytechnic was the overall winner of 2017 Life in My City Art Festival, LIMCAF. Before he won the prize, little was known about him as he was out there like any other upcoming artist struggling to make ends meet. But after many attempts, he finally won the overall prize in 2017, and since then life has been a different thing to him. Afegbua who sees himself as a LIMCAF ambassador addressed the winners during the grandfinale of the 2018 edition in Enugu. He spoke about his art, life after winning the award and others.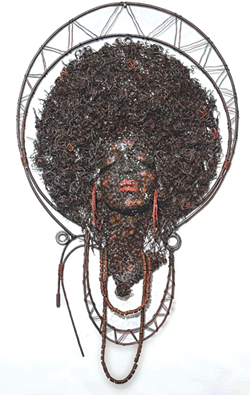 Incursion into art
I am Ibrahim Afegbua, a professional sculptor artist based and practice in Lagos state. I am from  Okpella, Edo state and graduated from Auchi Polytechnic.
Though there is no artist in my family, my passion for art started from my childhood and since then I have been creating works of art. I realized I was talented and ever since I got inspired to do more.
Life before the award
My Art life before Limcaf award was nothing to write home about. I was just strugglling and finding it difficult to make ends meet. Many people especially collectors do not know me.  I was producing art works with little or no encouragement from the few collectors I had, but the love and passion for art kept me moving. I had always wanted to document my art works, for that reason I began the search for art promoters who are willing and ready to showcase the upcoming artist, and in the process I discovered Limcaf.
After the discovery, what next?
Initially, it was not easy, I participated in Limcaf competition for six consecutive times, from 2012 to 2017. I was awarded best 25 artists, twice, and won the price for best Lagos entry (CCA award) in 2014, 2016.  But, the zeal to make it kept me going and in 2017 I won the overall price of Five Hundred thousand naira and a trip to Dar' art Biennele in Senegal with my piece, a 63 cm sculpture titled 'Facing The Giants' done in binding wire.
It was a great achievement on the side of my career as an artist, winning the overall price was an open door and it brought me to the limelight. First, the price boosted my art productions, and secondly, it opened the window of connection to my life, it connected me to other reputable art collectors/ galleries here in Nigeria and abroad.
"The award has really pushed me into the limelight. After the award, many people starting inviting me, the ones I know and people I don't know. I have exhibited in abroad three times, in France, Brussell and Senegal, participated in SNA exhibition and others.
As LIMCAF ambassador
Presently, I see myself as a LIMCAF ambassador, anywhere I go I talk about it. The festival has really empowered many youths all over Nigeria.
About the festival?
The Limcaf organizers have been doing tremendously well for the promotion of young artist. I believe they have better plans beyond what was achieved over the years. In addition I will suggest that the organizers should introduce or create a platform for the past winners to exhibit their recent works together; this could be in form of competition among the winning artists or a residency art project.
Advice to participants
My advice to those who have not won any of the winning categories, persistence is the key to achieving your goal, they should not relent, and they should keep working and produce quality works of art.