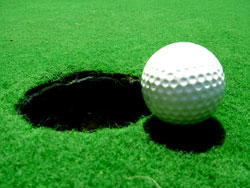 Managing Director of Toyota (Nigeria) Limited, Adekunle Adeojo, the sponsor of the Elizabeth Wuraola Ojo Golf Tournament (EWOMGT) which marked its 15th edition last weekend at Smokin Hills Golf Resort Ilara Monkin, Ondo State has given reasons why the event cannot be made an all professional tournament.
Adeojo, who was reacting to calls from some of the professional golfers to make the tournament a major event for the pro golfers instead of invitational, said they want to ensure that every golfer that has the ability to play participate in the tournament.
"We have both the Professionals and Amateurs playing in this tournament. The professionals always tee off the tournament in the first day of the two-day competition and followed by the Amateurs in both male and female .
"We can't make the tournament an all professionals because like I said before, this tournament is sponsored in memory of our mother. We want to ensure that everybody that has the ability to play participates. For professionals, I don't think we have that professionals here in Nigeria like we have in Europe and America. This is something that is sponsored by Toyota (Nigeria) Limited and we want to carry everybody along.
The professionals have their time to play and the amateurs have theirs too.
https://newlive.vanguardngr.com/2018/10/man-utd-saudi-prince-set-for-4b-formal-takeover-bid/
The person we are celebrating is a woman, so we have to ensure that the women are also well represented", he said adding that, "We are trying to improve and increase the participation of golfers in both male and female categories. And we also did the same in the professionals".