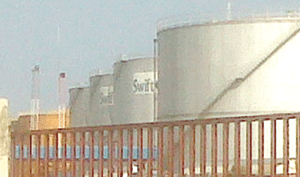 Some of the tank farms in Kirikiri Town
Lagos – A Maritime Expert, Mr Peter Obi, says relocating the tank farms from Apapa Wharf area, Lagos state will stop the perennial traffic congestion in the state.
Obi, who doubles as a member of the Council for the Regulation of Freight Forwarding Nigeria (CRFFN) made the suggestion in an interview in Lagos on Friday.
There are 15 tank farms owned by different companies in the Apapa wharf area.
He said that the tank farms contributed to the heavy gridlock on the Apapa Oshodi expressway and spilled to almost all parts of the metropolis.
Obi noted that before the inception of the tank farms in Apapa, there was no severe traffic congestion that threatened lives and the nation economy.
According to him, tank farm business intruders port businesses, saying that the port should be strictly used for what it was set up.
"During the time of Dr Kema Chikwe as Transport Minister was when these structures began to spring up. I objected to the idea with several protest letters to the ministry.
"I remember I told them that in time to come, Apapa will be impassable as the tank farms will take over allocated spaces for cargo business.
"If you look around Apapa Port and Tin Can Port, most of the areas that house these facilities were former places for staking container and truck parks," Obi said.
According to him, the roads though in bad state are not the cause of the gridlock, saying that even if the roads are fixed, it will not stop the menace.
He appealed to the Federal Government to as a matter of urgency direct the relocation of the tank farms to save the area and the economy.
Mrs Attih Mfon, Head Health Safety Environment (HSE) of the Department of Petroleum Resources, said that the agency was working with tank farm owners to ensure safety in the area (NAN)
https://newlive.vanguardngr.com/2018/11/apapa-gridlock-traders-lament-200-per-cent-hike-in-haulage-costs/