By Gabriel Olawale
Commissioner for Health in Ogun State, Dr. Babatunde Ipaye has identified the need to pay special attention to the Primary Healthcare Centre, PHC across the country, saying that 60 percent of patients abandon PHCs for General Hospitals.
Speaking at the 2018 Annual Scientific Conference of the Association of Medical Officers of Health in Nigeria, AMOHN, Ipaye said that for some reasons not documented, PHCs have been allocated to local governments.
"In countries where things work, PHC is the primary responsibility of Federal government. Most of the investments in our teaching hospitals where 67 per cent of their patients can actually be cared for at PHC level call for a review.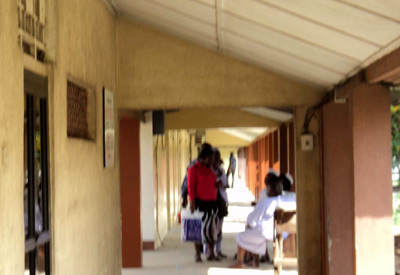 "In Ogun State, we have 46 secondary facilities, and on the average 60 per cent of the patients are people who should  be attended to at the PHCs."
Corroborating his views, National President of AMOHN, Dr Yahya Disu said stigmatisation against PHCs by the political class, the professionals and the people remain one of the major reasons why they are not functioning properly.
"We are in a society where PHC workers are looked down even by their so-called professional colleagues in other levels of care due to poor working conditions and incentives for PHC workers. Utilization of PHCs is seen as inability to pay for quality services in secondary facilities or private facilities.
"It is high time we organise a national conference on PHC involving all stakeholders with the aim of putting PHC in the right perspectives and accord it a priority it deserves if we want a meaningful health system for Nigerians.
https://www.vanguardngr.com/2018/11/a-wake-up-call-on-abuja-earth-tremors/
In his keynote address, Professor of Public Health & Community Medicine, Michael Asuzu said PHCs are greatest, and indeed only, the chance of achieving health for all which includes universal health coverage and health security for everyone.
"So in order to do what the international community had been saying, Nigeria need to return to the true Federation of viable federating units as it was from 1952 to 1966.
"Any Federal agencies in relation to issues of health should limit themselves to tertiary health services delivery but otherwise, to only policies and lower level supports only.
"The regions, as federating units whether they are properly supported by the federal government or not, must endeavour to support their local government authorities to have all it takes to provide PHC, without which both regional/state (secondary) and federal (tertiary) health services will fail in their responsibilities as well.
"The states and their LGAs should provide all it takes to run viable and self-reliant PHC services, namely the office and staff for the medical officers of health, the district or area statutory community nurse-midwives, any other medical or nursing auxiliaries for the extension of the medical and nursing services, but only to places where such doctors and nurses may not be found."
Subscribe for latest Videos