By Kingsley Omonobi & Peter Duru
Makurdi—Governor Samuel Ortom of Benue State, yesterday, claimed that a United Nations, UN, delegation scheduled to visit Benue State was denied landing permit at Makurdi Airport.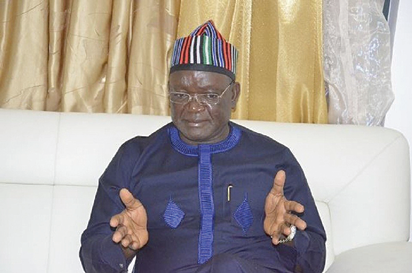 However, in a swift reaction, Nigerian Air Force, NAF, dismissed the allegation, saying a NOTAM, (Notice to All Airmen) clearly stated that runway 0523 was closed to all civil aviation operators (private aircraft) due to ongoing repairs at the airport.
Uganda officials study Nigeria's PenCom model
Director of NAF Public Relations and Information, Air Commodore Ibikunle Daramola, gave the clarification.
'What they don't want UN to know'
But Governor Ortom, who spoke yesterday in Makurdi while swearing in nine newly-appointed commissioners, said: "They did not want the delegation to come to Benue to get firsthand information of the dehumanising situation and injustice our people are facing. It is not fair.
"I will not accept it and I will not keep quiet. If you want me to keep quiet, give me justice.
"It is only a fool that will die 20 times before his actual death and you know that I am not a fool. I am ready to die once, as far as I get justice for my people."
EFCC a dept in APC—Ortom
According to him, in the last eight months, officials of his administration had allegedly been subjected to several interrogations by the Economic and Financial Crimes Commission, EFCC, over N120 million expended on the burial of the former Tor Tiv and Chairman of the state's Traditional Council, the late Akawe Torkula, and resettlement of his family two years ago.
NANTS sensitizes Benue traders, farmers ahead of 2019 general elections
He said: "EFCC has become a department in the All Progressives Congress, APC, that is used to harass and intimidate perceived political enemies.
"It is unfortunate that if you are a member of APC, you are a saint, but the moment you leave the party, they demonise you and you are hunted.
"I am a strong advocate of the fight against corruption, but it has to be holistic and total and not selective."
Airport shut since August 22—Air Force
On his part, Air Commodore Daramola, while noting that the NOTAM had been in effect since August 22, said the airport would remain closed until the repairs were completed.
His words: "Military aircraft make use of the airport, but we cannot give a clearance to a private/civil aircraft to land there."
PDP to immortalize Anenih – Secondus
Emphasising that NAF was aware that the UN delegation was being led by the UN Special Representative for West Africa, Ibm Chambers, and that they were to visit Borno, Lagos and Rivers, Commodore Daramola said: "In those airports, they had no issues with landing, but that of Benue State is different.
"For you to know that the Air Force has no ulterior motive, the request for the use of the airport, was written and communicated by the Federal Ministry of Foreign Affairs. There is nothing we can do.
"The NOTAM is there for everybody to see; its reference number is Coo/64/18."