By Anthony Ogbonna
President Muhammadu Buhari has said that the Kano state Governor, Abdullahi Ganduje is a very responsible man.
President Buhari who said this in a video clip as seen on Channels TV, said he believed the Kano state governor has done very well to warrant his accolade.
Photos: Buhari meets with Nigerian Community in France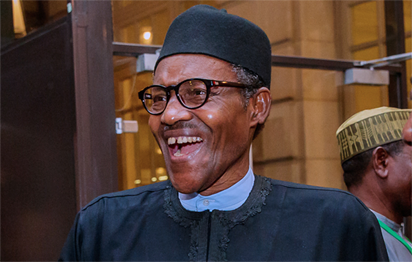 According to Buhari, Governor Ganduje has completed so many projects in education and healthcare such that Kano people are now enjoying the benefits.
He said if it were to be another person, the person would have diverted the funds meant for the development of the state for personal use.
According to Buhari, "So I complement the governor for doing so much because, he invited me here so I went to Kano. The good project started by Kwankwaso in education and healthcare which is a lot of emphasis that should be made for ordinary Nigerian.
"The majority, the poor Nigerians are…Ganduje completed them. If it were another person, he could have have no other ambition that, this is the project he started, he diverted the balance of the money to go and contest for presidency instead of completing. But he (Ganduje) completed the …(projects) and Kano people are enjoying the benefit. I think that it's very responsible of him. I think he's done very well."
Recall that President Buhari, who had earlier on spoken for the first time, during an interactive session with Nigerians in France, about the recent bribery allegation against the governor, said videos depicting the bribery had been given to security men for vetting.
"We gave the videos to security agencies for vetting. And we will surely take action on the matter if he is found guilty,'' President Buhari was quoted to have said.
In the videos widely circulated on social media, the governor was seen allegedly receiving kickbacks from contractors to the tune of $5 million.
Subscribe for latest Videos