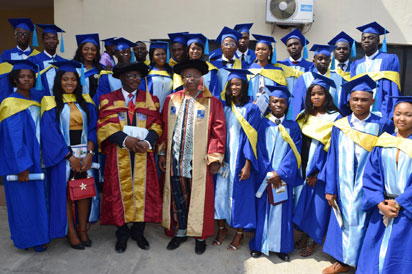 Cross section of graduating students of McPherson University, Ogun State with Vice-Chancellor, Professor Adeniyi Agunbiade and Professor Toyin Falola, from University of Texas, Austin, USA.
By Dayo Adesulu
The critical challenge plaguing   institutions of higher learning is funding. This  has generated a cluster of other issues regarding  attendance and effectiveness of many institutions.
While it's obvious that governments alone cannot effectively fund education, tertiary education  has been heavily relying on tuition fees, donations and faith-based institutions.
That was the revelation of Professor Toyin Falola while delivering the 3rd convocation lecture at  McPherson University, Ogun State themed The Integration of Knowledge and Faith.
According to Falola, organized religions, primarily Christianity and Islam are the foundation of faith-based institutions and their  manifest purposes include  the propagation  of faith and  inculcation of values.He explained that the influence of  religion  on  socio-political and economic life  is not the only factor  that motivated  the development of  faith-based universities pointing  out that many difficulties including  dwindling  enrolment rates, funding restrictions as well as influence of  political protest groups were major challenges.
Giving reasons for  privitisation of higher education in our country, Falola disclosed that the struggle for resources by  staff and students as well as the decrease in productive and capable graduates, prompted the privatization of higher education. These, he noted attracted  private funds to the education sector.The distinguished  professor of the University of Texas at Austin, TX, USA, posited that as units of  learning,  faith-based universities are not immune to  challenges of  other institutions of higher learning in Nigeria.
Breaking: Again FG, ASUU meeting on agreement ends in deadlock
He aded that "Most rely on a combination of  fees, donations and  faith-based institutions  for  funds. This can be appreciated especially in  Kogi State where 66.7% of universities are funded by  a combination of sources". He however cautioned that the problem of funding is not peculiar to Nigeria since in other African nations there are  restrictions in  budgetary allocation to education. For example, the Pan African Christian University in Kenya is also in the vortex of a funding crisis and unable to function optimally  without the aforementioned sources.
"Many have predicted that the cost of  running these institutions combined with lower student enrolment rates could very well drive them out of  business.
The capacity of some faith-based universities is at variance with  poor enrolment. This data not only highlights the need for funding of  faith-based universities but also the profit motive of some of them. The direction of private universities is linked to funding as well as  how the country is managed and leadership. Also, government  policies  will influence the agenda of faith-based institutions and impact the diversification of programs of study in each. This concern of leadership must also be addressed in addition to the challenges regarding the funding of various programs and institutions.
The yearning for education
Youths are generally expected to be committed to acquiring education as institutions train them to become useful to society. The concentration on not just only  skill acquisition  but also religion  in  these faith-based universities is expected to prepare students for wholesome living.While many challenges plague the future of these institutions, availability of  jobs  will make private universities more affordable and with  better management of the country, enrollment in these institutions will improve  and  enhance  their potential to give back to society.
VC calls for law banning public officers from sending their wards overseas
Meanwhile,  Vice-Chancellor, McPherson University, Professor  Adeniyi Agunbiade said  70 students graduated this year and that 11 of them made First Class Honours,  thirty-five made Second Class Upper Division, while 15 were in  Second Class Lower Division. The remnant made  Third Class honours.Bello Kehinde Oluwatoyin of the Department of Accounting and Finance, emerged the overall best graduating student, with a Cumulative Grade Point Average (CGPA) of 4.81.Speaking on the progress of the institution,  Agunbiade said: "The National Universities Commission (NUC) made  an assessment visit in July, 2017 to review our license. I am happy to report that following satisfactory performance, the provisional license granted at inception has been replaced with a full operational license"