The Governorship candidate of the All Progressives Congress (APC) in Imo state, Hope Uzodinma, has been arrested.
He was arrested him at Nnamdi Azikiwe airport in Abuja on Sunday.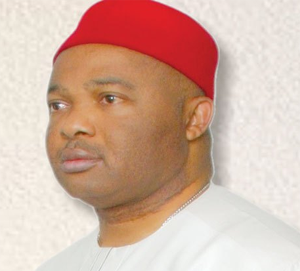 Okoi Obono-Obla, chairman of the Operatives of the special presidential investigation panel for recovery of public property panel, confirmed this on Monday.
He said Uzodinma was arrested over a breach of contract. Obono-Obla said a company of the senator representing Imo west senatorial district was awarded a $12m contract by the Nigerian Ports Authority (NPA) for the dredging of Calabar channel but did not execute the contract.
"We have been looking for him for the past 13 months over a case of failure to execute a contract of $12m dollars awarded for the dredging of the Calabar channels awarded by the Nigeria Ports Authority," he said.
"We have written countless letters to the clerk of the national assembly in accordance with their procedure. He has shunned all our invitations and he has been very evasive.
"We pasted our assets declaration form because the first procedure when we are investigating you is to give you our assets declaration form and within 30 days, you are required to fill and return them. If you fail to return them, then we can charge you to court. We have charged him to before the federal high court for failure to declare his assets. He has notice of our invitation. We pasted the asset declaration form in his residence in accordance with the law."
https://www.vanguardngr.com/2018/11/18-ondo-lawmakers-flee-to-ibadan-petition-igp-buhari-over-threat-to-lives/
Asked if the arrest has anything to do with the crisis rocking the state chapter of the All Progressives Congress (APC), Obono-Obla said the panel only did its job.
"It has nothing to do with politics. Why is it that each time we invite somebody, people will begin to read political meaning to it?" he asked.
"We have no business with what is happening in Imo state. We have been given a job to do and we have to do it. If he has issues, he should have taken steps to clear all those issues before vying for the election. We have no business with that. We have been asked to do something and we are doing it."
https://www.vanguardngr.com/2018/10/i-learnt-the-rudiments-of-politics-from-the-late-anenih-says-odigie-oyegun/